"There are plenty of eye-witness accounts. Just because you're so narrow-minded you need to have everything shoved under your nose before you–"

This article contains a list of appearances, but currently has few or no notes and references. Please help the Harry Potter Wiki by adding notes and/or references to bring this article to a higher standard of quality.
"Are you a wizard or not?"

The title of this article is conjectural. Although it is based on canonical information, the actual name is a conjecture and may be supplanted at any time by additional information released from canonical sources. If this occurs, please move this page to the appropriate title.
The house of Zygmunt Budge was a delapidated one-room shack built into a large rock in the island of Hermetray in the Outer Hebrides of Scotland. The house was all made of rough stone, had a large work table and a large cauldron on the corner, where Budge would conduct his Potion-making experiments.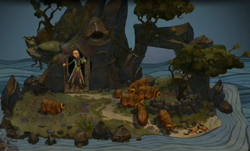 In the 16th century, Zygmunt Budge, noted potioneer, took residence in this house after dropping out of Hogwarts School of Witchcraft and Wizardry as an act of protest, at age 14. Living in solitude, his only company for the remainder of his life was a flock of sheep he kept and the rats that infested the house.
Appearances