Zoë Wanamaker
Biographical information
Born

13 May, 1949 Stoke on Trent Staffordshire England United Kingdom

Nationality
Gender

Female

Height

5' 3½"[1]

Family
Website
Career
Years active

1973-present

In Harry Potter
Zoë Wanamaker CBE, (born 13 May, 1949), is an American-British actress who played Rolanda Hooch in the film adaptation of Harry Potter and the Philosopher's Stone and is one of the few American actors in the series. Outside the Potter franchise she is wellknown for her role as Susan Harper in the British sitcom My Family.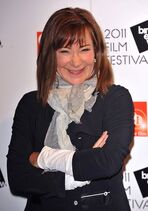 As well as these roles, she has appeared in a number of series and films including three television adaptations of Agatha Christie's
Poirot and Marple
, as well as two episodes of
Doctor Who
playing Cassandra the
Last Human
.
Throughout her theatrical career she has been nominated for numerous awards, three of which she has won, and holds both American and British nationalities having obtained her British citizenship in order to accept a CBE from the Queen.
Early lifeEdit
Zoë Wanamaker was born in New York City to Charlotte Holland and Sam Wanamaker and trained at Central School of Speech and Drama.
Personal lifeEdit
In November 1994, she married Irish actor Gawn Grainger. She is a patron of Dignity in Dying and of the Young Actors Theatre Islington. She has two sisters; Abbey and Jessica.
External linksEdit
Notes and referencesEdit
This article about an actor or actress is a stub. You can help by expanding it.