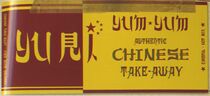 Yuri Yum-Yum Chinese Take-Away was a wizarding authentic Chinese food take-away restaurant that offered free home delivery. Someone who attended the 1994 Quidditch World Cup enjoyed take-ways from Yuri Yum-Yum Chinese Take-Away, suggesting that it either set up a food booth at the campsite, or was willing to deliver there.[1]
Appearances
Notes and references
Ad blocker interference detected!
Wikia is a free-to-use site that makes money from advertising. We have a modified experience for viewers using ad blockers

Wikia is not accessible if you've made further modifications. Remove the custom ad blocker rule(s) and the page will load as expected.