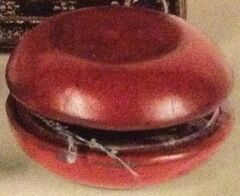 A yo-yo was a toy consisting of two discs connected by a central rod, around which a length of string was wound, similar to a spool.[1] To play with a yo-yo, the user held the free end of the string, then tossed the toy out or allowed gravity to pull it down.[1] This created spin which could be used to make the yo-yo rewind into one's hand.[1]
Tom Riddle stole a red yo-yo from another child at Wool's Orphanage in the 1930s.[2][3] He hid it in his wardrobe along with a collection of other stolen items.[2][3]
The Screaming Yo-yo was a type of magical yo-yo that presumably shrieked when a person played with it.[4] Argus Filch added Screaming Yo-yos to the list of items forbidden at Hogwarts at the start of the 1994–1995 school year.[4]
Appearances
Notes and references
Ad blocker interference detected!
Wikia is a free-to-use site that makes money from advertising. We have a modified experience for viewers using ad blockers

Wikia is not accessible if you've made further modifications. Remove the custom ad blocker rule(s) and the page will load as expected.