"Another instalment of adventure from Gilderoy Lockhart."
—Description
Year with the Yeti
was a book written by
Gilderoy Lockhart
, one of his
collected works
. The book was a required textbook for Lockhart's
Defence Against the Dark Arts
class during the
1992
-
1993
school year, one of seven along with
Break with a Banshee
,
Gadding with Ghouls
,
Holidays with Hags
,
Travels with Trolls
,
Voyages with Vampires
and
Wanderings with Werewolves
.
[1]
Year with the Yeti by Gilderoy Lockhart is one of the books Lockhart assigns to students in his Defence Against the Dark Arts classes.
In this book, it was revealed how Lockhart supposedly gave a Yeti a headcold,[2] though Lockhart later revealed that he was merely taking credit for the achievements of other wizards.[3] It was also in this book Lockhart indicates that his favourite colour is lilac.[4]
Spella Weekly praised the book, writing, "Heart to Hart with the lovely Lockhart. Bewitching."[5] What Wand also gave it a favourable review, raving, "Lockhart sure can spell. Lock around the clock!"[5] Both quotes were featured on the back of the book's dust jacket.[5]
When investigating a Muggle sighting of a magical creature at the Siren's Rest pub in Wales, Mathilda Grimblehawk and her partner came across a journal with a drawing of a yeti on the front cover. Mathilda's scoffed "I hope this reads better than Lockhart's 'Year with the Yeti'…"[6]
Appearances
Edit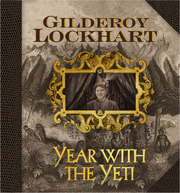 Notes and references
Edit
Ad blocker interference detected!
Wikia is a free-to-use site that makes money from advertising. We have a modified experience for viewers using ad blockers

Wikia is not accessible if you've made further modifications. Remove the custom ad blocker rule(s) and the page will load as expected.