Year with the Yeti
Publication information
Author
Released

pre. 1992

Subject

(False) life experiences of Gilderoy Lockhart

Copies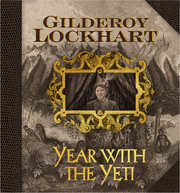 Year with the Yeti was a book written by Gilderoy Lockhart, one of his collected works. The book was a required textbook for Lockhart's Defence Against the Dark Arts class during the 1992-1993 school year, one of seven along with Break with a Banshee, Gadding with Ghouls, Holidays with Hags, Travels with Trolls, Voyages with Vampires and Wanderings with Werewolves.[1] In this book, it was revealed how Lockhart supposedly gave a Yeti a headcold[2], though Lockhart later revealed that he was merely taking credit for the achievements of other wizards.[3] It was also in this book Lockhart indicates that his favourite colour is lilac.[4]
Spella Weekly praised the book, writing, "Heart to Hart with the lovely Lockhart. Bewitching."[5] What Wand also gave it a favourable review, raving, "Lockhart sure can spell. Lock around the clock!"[5] Both quotes were featured on the back of the book's dust jacket.[5]
Appearances
Notes and references