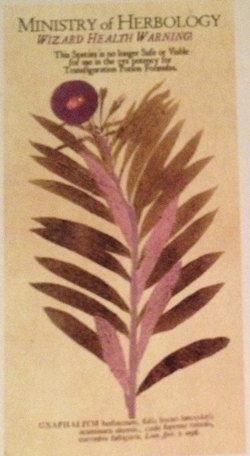 "This Species is no longer Safe or Viable for use in the gye potency for Transfiguration Potion Formulas."
—A Ministry of Herbology Wizard Health Warning
Wizard Health Warnings were warnings, issued by the Ministry of Herbology, that were posted around major wizarding locations, in order to prevent plant-related health scares among wizarding society. One such public warning was posted on a wall at Diagon Alley in the summer of 1991.[1]
Appearances
Notes and references
Ad blocker interference detected!
Wikia is a free-to-use site that makes money from advertising. We have a modified experience for viewers using ad blockers

Wikia is not accessible if you've made further modifications. Remove the custom ad blocker rule(s) and the page will load as expected.