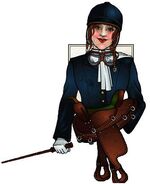 Winged horse racing is the racing of winged horses. It is unknown whether there are individual races for each breed, or if there are just general winged horse races open to all breeds, however the former is most likely as Granians are famous for their speed and would put the other participants at a disadvantage. The only known competitive racer is Laurentia Fletwock, who also breeds the horses.
Appearances
Ad blocker interference detected!
Wikia is a free-to-use site that makes money from advertising. We have a modified experience for viewers using ad blockers

Wikia is not accessible if you've made further modifications. Remove the custom ad blocker rule(s) and the page will load as expected.