"Is this all real? Or has this been happening inside my head?"

The subject of this article is of a real-life person, place, group, company, product, or creative work that has been mentioned "in-universe" in a canon source. The Harry Potter Wiki is written from the perspective that all information presented in canon is true (e.g., Hogwarts really exists), and, as such, details contained in this article may differ from real world facts.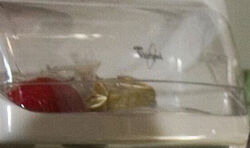 Whirlpool is a Muggle company that manufactures home appliances.[1] The Dursley family had a refrigerator from this company in the kitchen of their house at Number 4, Privet Drive.[2]
Appearances
Notes and references