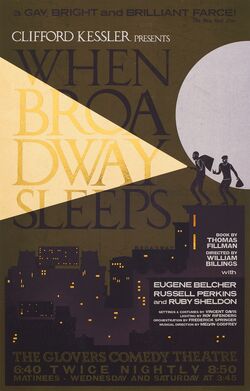 When Broadway Sleeps was a No-Maj comedy play adapted from a book by the author Thomas Fillman.
The New York Star hailed the play as "a gay, bright and brilliant farce!"
A production of this play, produced by Clifford Kessler and directed by William Billings, was running at the Glovers Comedy Theatre in New York when Newt Scamander visited the city in December 1926. The production starred Eugene Belcher, Russell Perkins, and Ruby Sheldon. Frederick Springer did the orchestration and Melvin Godfrey served as the musical director. The costumes and sets were designed by Vincent Davis and the lighting was done by Roy Rifenderg. The production ran twice daily, at 6:40 and 8:50, with matinees running on Wednesdays and Saturdays at 3:45.[1]
Appearances
Notes and references