The West Tower is a tower in Hogwarts Castle. The Owlery is located on the top of this tower[1]. During the winter months, the tower is very cold, to the point that one has to be careful with ice on the higher landings.[2]. A tightly spiralling staircase leads from the bottom of the tower on the seventh floor up to a door leading out onto the battlements[3][4].
Behind the scenes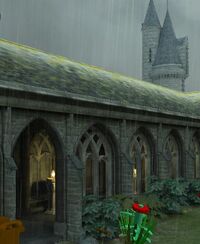 In the films, the West Tower is depicted as a remote tower separate from the main Castle, whereas the books speak of the tower being connected directly to the main building.
In LEGO Harry Potter: Years 1-4, the tower has a courtyard.
Appearances
Notes and references