"Hey look! Ginny's over by the Puffskein patch. Why don't you go and chat to her? She's been a bit shy lately — I wonder why? I'm off to see what dad's up to."
—Ronald Weasley to Harry Potter in August, 1992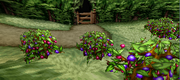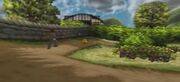 The Puffskein patch was where the Weasley family kept their pet Puffskein. It was a large enclosure with wild bushes, which the Puffskein enjoyed eating. Before going to Hogwarts School, Ginny Weasley spent quite a bit of time in this enclosure making sure her brothers, Fred and George, did not use the family pet as a Bludger during Quidditch practise.[1]
Appearances
See also
Notes and references