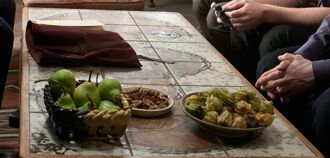 The Weasley family had a coffee table in the living room of their home, The Burrow, in Ottery St Catchpole, England.[1] It was made in 1976 and inlaid with tiles hand-painted with a brown geometric design by Ox-Art.[1]
Behind the scenes
The coffee table featured in Harry Potter and the Deathly Hallows: Part 1 is one of a line of tile-inlaid tables (which included dining tables, coffee tables, and end tables) produced by the Danish furniture company Trioh in the 1970s.[2][3][4] The tiles on this line of tables were typically signed "Ox-Art" and dated with the year of manufacture.[2][3][4]
The coffee table was acquired by a collector in Pembrokeshire soon after its use in Harry Potter and the Deathly Hallows: Part 1. This person later sold the table to Brita Rogers, who in turn offered it for sale at an antiques fair in Carmarthen, Wales in 2015.[5]
Appearances
Notes and references
Ad blocker interference detected!
Wikia is a free-to-use site that makes money from advertising. We have a modified experience for viewers using ad blockers

Wikia is not accessible if you've made further modifications. Remove the custom ad blocker rule(s) and the page will load as expected.