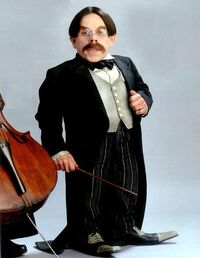 Warwick Davis is the actor who has portrayed Filius Flitwick in all film adaptations to date (except for Harry Potter and the Deathly Hallows: Part 1). He also played the Gringotts bank teller in Harry Potter and the Philosopher's Stone and was the voice of Griphook (played by Verne Troyer) in the same film. He fully plays Griphook in the Deathly Hallows films.
Career
In 1983, he was cast as Wicket the Ewok in George Lucas' Star Wars Episode VI: Return of the Jedi. In 1988, he portrayed Willow Ufgood, the protagonist in the film Willow. He had two roles in Star Wars Episode I: The Phantom Menace, where he played the Rodian Wald and a human (seen with Watto during the Podrace). In 2005, he appeared in The Hitchhiker's Guide to the Galaxy as Marvin the Paranoid Android. The character was voiced by Alan Rickman.
He starred in The Chronicles of Narnia: Prince Caspian as Nikabrik, in which Predrag Bjelac also appears. Coincidentally, Davis also appeared in the 1989 TV miniseries Prince Caspian and the Voyage of the Dawn Treader.
In 2006, Davis guest-starred in an episode of the comedy series Extras, in an episode in which Daniel Radcliffe, played himself, performed a spoof of Harry Potter; Davis (also appearing as himself) played a magical creature in the spoof.
He also guest-starred in the episode "The Eye of the Phoenix" on BBC's Merlin as the mystical Grettir, gatekeeper to the land of the Fisher King.
He also played the Leprechaun in the six Leprechaun films.
He is currently starring as himself in the Ricky Gervais's mockumentary Life's Too Short.
Behind the scenes
The second "w" in his first name is silent.
His appearance as Flitwick changed in the Prisoner of Azkaban from being an extremely older looking man in the first two movies, to a much younger man. The films have yet to address the reason for the change in appearance (which does not occur at all to Flitwick in the books).
His grandmother heard an announcement on the radio calling for people under 4 feet in height to audition for Star Wars: Return of the Jedi. He went and auditioned and received a role as an ewok. When actor Kenny Baker got a bad case of food poisoning on the day they were to film Wicket meeting Princess Leia for the first time, Warwick's role was made into the main ewok character Wicket, the lead Ewok.
At the age of 11, he was only 2'11"
Davis's wife and children are also goblins in Harry Potter and the Deathly Hallows: Part 2
Since the end of the films, Davis has visited The Making of Harry Potter over a dozen times.[1]
Warwick Davis and his father-in-law, Peter Burroughs, head up Willow Management, and acting agency specializing in actors/actresses under 5' tall.  Willow Management was key in supplying the cast of Goblins that work at Gringotts.
Notes and references