The Making of Harry Potter
Talk

2
12,054pages on
this wiki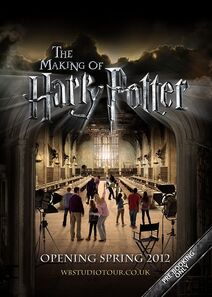 Warner Bros. Studio Tour London: The Making of Harry Potter
is a behind-the-scenes one-way walking tour about the
Harry Potter
films, which opened on
31 March
, 2012. The tour features authentic sets, concept art, scale models, costumes and props from the
Harry Potter series
.
The tour is located 20 miles from Central London at Warner Bros. Studios, Leavesden, where the Harry Potter movies were filmed. Tickets will not be available for sale at the attraction, they must be booked online through the official website or via a site such as Brit Movie Tours.
Before going into the tour, you will be handed a booklet where you can do various things on the tour such as finding 15 Golden Snitches in various areas, answering quick questions and locating stamps. When you go into the tour, you will be standing in a room containing posters of the films in various languages which will eventually change into clips of why the Philosopher's Stone became a film.
The tour guide will then lead you into a cinema to watch a small clip of Harry, Ron and Hermione explaining why Harry Potter was a success and what it meant to them. The film will end with Ron, Harry and Hermione going into the Great Hall. The screen will lift up, revealing the actual Great Hall.
You then go into a large room including props from the Yule Ball, and various wigs and costumes. Also, there is a large cauldron and Malfoy Manor, Umbridge's Office at the Ministry, the Atrium, the Potions classroom, containing Snape's and Slughorn's outfits, the Gryffindor common room and various little details such as the posters and the Howler to Ron Weasley can all be seen.
In a small room, off the side of the large room containing the props and sets, there is an area where a member of staff can take a photo of you on a broomstick or appearing to have a flight in the Weasleys' Ford Anglia (with a price to pay). The toilets are also located there.
Outside there is 4 Privet Drive, the Knight Bus, the Riddle Grave, a small Butterbeer cafe, the Potters' Cottage, and the Hogwarts Bridge (which you can walk across). This is where you can take a small break on your tour. Then you go into the model studio, with Dobby, Aragog, Gringotts goblins' masks and more. You then go into Diagon Alley, preceded by to-scale works of concept art.
Down a corridor, there is a large model of Hogwarts used for exterior shots within railings, so you go down the ramp and take a look at that. In the background would be some of the theme music featured in the series, such as Hedwig's Theme.
You are then in a small room like Ollivander's Wand Shop. Each box has on it the name of an actor even vaguely involved in Harry Potter, such as Dame Maggie Smith or Evanna Lynch, with a guide there to lend you his wand so you can have a photo of you pointing to your favourite.
You are then led to the gift shop at the end, where you can buy anything from Extendable Ears and Pygmy Puffs to the Weighing of The Wands set and Hermione's Yule Ball Gown, as well as a vast selection from Honeydukes, and merchandise in house colours, and wands from most characters from Harry to Narcissa. These are particularly expensive, and not all items have each house colour such as the Prefect badges.
Harry Potter film series cast and crew members Rupert Grint, Tom Felton, Bonnie Wright, Evanna Lynch, Warwick Davis, David Thewlis, Helen McCrory, George Harris, Nick Moran, Natalia Tena, David Bradley, Alfie Enoch, Harry Melling, David Heyman, David Barron, David Yates, Alfonso Cuaron and Mike Newell, attended Warner Bros. Studio Tour: The Making of Harry Potter grand opening event on 31 March, 2012.
External Links.