"There are plenty of eye-witness accounts. Just because you're so narrow-minded you need to have everything shoved under your nose before you–"

This article contains a list of appearances, but currently has few or no notes and references. Please help the Harry Potter Wiki by adding notes and/or references to bring this article to a higher standard of quality.
""Wand Extensions, Reshaping and Alignment
WANDINGTONS - For all your wand woes!
Short, Stubby Wand? Crooked Tip? Aiming Issues?
Just send a self addressed Owl to - - -""
—Wandingtons advertisement in The Daily Prophet newspaper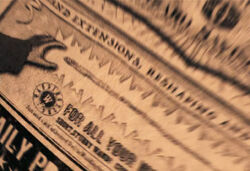 Wandingtons was a company that offered wand alteration services like extension and reshaping. It ran an advertisement in the Daily Prophet in 1996.
Appearances