The Wand-Lighting Charm[1] (Lumos) is a charm that causes the tip of the caster's wand to emit a warm glow[2]. Its counter-spell is the Wand-Extinguishing Charm. It is taught in first year Defence Against the Dark Arts classes[3] and is detailed in both the Standard Book of Spells, Grade 2 [4] and the Lumos spellbook.
Usage
Lumos is simultaneously one of the simplest and most useful spells of all, rivalled only in its pragmatism by Flipendo. Not only can the light produced from produced illuminate dark areas like a lantern (which is in itself very useful) but is is the only known spell effective at repelling spectral foes, such as Gytrashes and malevolent spirits[5].
Known practitioners
Etymology
The incantation Lumos is derived from the Latin lumen meaning "light."
Behind the scenes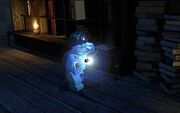 It is possible this charm is not affected by The Trace, perhaps because it is incredibly simple and looks like torch light, so this spell could be used outside Hogwarts.[6]
In the opening of The Wizarding World of Harry Potter, Daniel Radcliffe, Michael Gambon, Bonnie Wright, Rupert Grint and James and Oliver Phelps tried to use Lumos to illuminate Hogwarts Castle. However, they did not succeed and they tried a stronger version of this spell, Lumos Maxima.
In the film adaptation of Harry Potter and the Prisoner of Azkaban, if one listens closely, the Lumos charm appears to make a very soft humming sound.
Lumos is perhaps the most consistently portrayed spell in the movies and games in terms of appearance; almost always appearing as a bright blue (or yellow) light with faint pulses emanating slowly from the wand tip, occasionally precipitating smoke.
Appearances
Notes and references