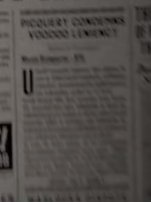 Voodoo was a term used to refer to any of a group of related religious practises found chiefly in and around the Caribbean, particularly in Haiti and Louisiana, and also in West Africa (Benin and in the south of Togo).[1]
In the 28 November 1926 issue of The New York Ghost, Seraphina Picquery, President of MACUSA, was noted to have condemned "Voodoo leniency".
Appearances
Notes and references
Ad blocker interference detected!
Wikia is a free-to-use site that makes money from advertising. We have a modified experience for viewers using ad blockers

Wikia is not accessible if you've made further modifications. Remove the custom ad blocker rule(s) and the page will load as expected.