Vindictus Viridian
Biographical information
Born

before 1686 (most likely)

Died
Title(s)
Physical information
Species
Gender

Male

Hair colour
Eye colour

Dark

Skin colour

White

Affiliation
Occupation
Loyalty
"And if wishes grew on trees, life would be a breeze. Please pester someone else!"
—Viridian's portrait, refusing to open to Harry Potter
Professor Vindictus Viridian (d. 1703[1]) was a potioneer, author and Headmaster of Hogwarts School of Witchcraft and Wizardry in the early eighteenth century.
Biography
Edit
Based on his portrait, Viridian was a potioneer. At some point in his life, he was named Headmaster of Hogwarts School of Witchcraft and Wizardry[2]. Also during his lifetime, he published a famous book on curses: Curses and Counter-Curses (Bewitch your Friends and Befuddle your Enemies with the Latest Revenges: Hair Loss, Jelly-Legs, Tongue-Tying and much, much more).
Post-mortem
Edit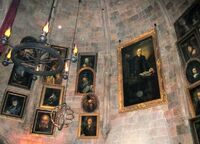 Professor Viridian died in 1703.[1] Two portraits of him hung at Hogwarts: one was hung in the Headmaster's office along with the portraits of other Headmasters and Headmistresses,[2] and another at the Grand Staircase.[3]
In the 1995-1996 school year, Viridian's portrait at the Grand Staircase was used to conceal the entrance to the Room of Rewards. He was frequently annoyed by all the hustle and bustle of the students' school life. In order to gain entry to the Room of Rewards, Hermione Granger threatened to convince Myrtle Warren to haunt the landing where the portrait hung. Disliking Myrtle, Viridian let Harry Potter and his friends through.[3]
Magical abilities and skills
Edit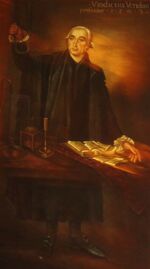 Curses: Professor Viridian was exceptionally skilled with curses, hexes and jinxes, and wrote a book which included such spells as the Full Body-Bind Curse, Jelly-Legs Curse, Leg-Locker Curse, Pimple Jinx, Stickfast Hex, Tickling Hex, Tongue-Tying Curse and Hair Loss Curse. Hence, it can be presumed he was able to cast such spells.
Potioneer: Professor Viridian was presumably a well-known potioneer, as evidenced by several portraits of him making potions.
Etymology
Edit
The name Vindictus is derived from the Latin vindicta ("revenge") and the surname Viridian from the Latin viridis ("green").
Behind the scenes
Edit
Appearances
Edit
Notes and references
Edit