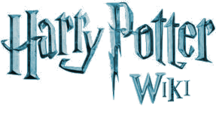 Wotcher!
Hello, JACK5555, and welcome to the Harry Potter Wiki (HPW). Thank you for your contributions. I hope you enjoy it here and decide to stay.
Before editing, be sure to read the wiki's policies. Please sign your name on Talk and vote pages using four tildes (~~~~) to automatically produce your name and the current date. Be sure to verify your e-mail address in your preferences. Before attempting any major article rewrites please read the layout guide. If you have any questions, check out the policy and help pages (see here for editing help), add a question to the Community portal, view the forum or ask me on my talk page. Again, welcome!
—Me_Potter_Fan (Talk) 22:48, 25 July 2008 (UTC)
Soundtracks section in Deathly Hallows (film) article
Thank you for updating the Soundtrack section of the Harry Potter and the Deathly Hallows (film) article. It such a great news. --ÈnŔîčö DC
(Send me an Owl!) 11:04, January 19, 2010 (UTC)
Image deletion
Sorry for the late reply over your query ... what is your evidence that it is not an official cover? It may be a special edition cover only available through certain stockists, or in different countries. I will delete it without hesitation if it is fake, but I need a little proof. Regards, - Cavalier One

(Wizarding Wireless Network) 08:56, February 23, 2010 (UTC)
Thank you. The image has been deleted. You may want to remove the link from your user page as well. Thanks for the heads up. - Cavalier One(Wizarding Wireless Network) 14:59, February 23, 2010 (UTC)
Wanted Posters
They were uploaded by someone else, but they had thick, white borders at the sides which I had cut. I just re-uploaded them without those borders, I don't know from where they are. --TheBook — (talk | contribs) 11:07, August 9, 2010 (UTC)
Image upload problems
Which images are you referring to? It may be something as simple as a Wikia caching error, which I have no control over, and we'll just have to wait for Wikia to sort itself out. Link me to the images, and I'll take a look. - Cavalier One

(Wizarding Wireless Network) 08:10, September 6, 2010 (UTC)
Fleur image
If you wish to officially cast a vote, you must put your signature in the For section of whichever candidate you support. Voting is only open for another four hours from now, so act quickly if you want it counted. Also please do not upload over an existing candidate image while a vote is in progress. Thank you. - Nick O'Demus 12:59, October 24, 2010 (UTC)
File:FLEUR1.jpg
Okay, I'm seeing a small revert war going on over this image. What exactly is the problem with the image? How has it been photoshopped? Where is the original image from, and is there a link to it online? I don't want this to get out of hand, and you seem to be aware of the situation, so if you can give me the info, I can sort it out and stop the reverts. Thanks in advance, - Cavalier One

(Wizarding Wireless Network) 08:44, November 5, 2010 (UTC)
What are you doing with the images?
We can add a contrast at the original photos to get a better images.
Please, not revert this again.Pol 871

(Send me an Howler!) 19:56, November 13, 2010 (UTC)
I've deleted the previous revisions so that only the correct image is in the file. I'll be watching it to see if it is changed again. You are correct; articles should not be altered in such a way as to change them significantly from the original image, as was done in this case. - Cavalier One(Wizarding Wireless Network) 21:31, November 14, 2010 (UTC)
RE: Dolohov's wand
Hiya. He can be seen holding it in this image. If you look closely the handle is just visable. Thanks.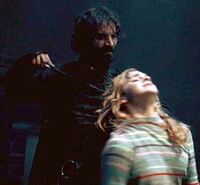 Jayden Matthews
09:55, February 21, 2011 (UTC)
Thanks! The only other one that was clearly visable was Travers's wand, which is the Stallion wand from the Noble Collection. He can be seen holding it in this image. I haven't been able to sopt any others, but maybe when DH: Part 2 comes out we'll get some better screenshots.

Jayden Matthews 10:49, February 22, 2011 (UTC)