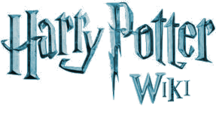 Wotcher!
Hello, Head of Ravenclaw, and welcome to the Harry Potter Wiki (HPW). Thank you for your edit to the Template talk:News page. I hope you enjoy it here and decide to stay.
Before editing, be sure to read the wiki's policies. Please sign your name on Talk and vote pages using four tildes (~~~~) to automatically produce your name and the current date. Be sure to verify your e-mail address in your preferences. Before attempting any major article rewrites please read the layout guide. If you have any questions, check out the policy and help pages (see here for editing help), add a question to the Community portal, view the forum or ask me on my talk page. Again, welcome!
-- Nick O'Demus (Talk) 16:49, August 4, 2011
House points shatter
The page was redirected because a.) its an inconsequential event that should be documented on the House points hourglass page, and b.) there is no evidence that the hourglasses shatter when a prominent wizard of the house dies. Both instances of shattering in the books were caused during battles. - Cavalier One

(Wizarding Wireless Network) 00:32, August 7, 2011 (UTC)
Transfiguration
Hiya, you're online now, so I thought I'd ask you (as long as its not too much trouble).
Basically, there are these three pages on the wiki known as Inanimate to animate Transfiguration, Animate to inanimate Transfiguration and Inanimate to inanimate Transfiguration. They're supposed to be different categories that transfifuration spells fit into but they a.) are not attested to anywhere in canon (and hence are fanon) and b.) don't even fit with canon (for example, some spells like Lapifors can't be classified into any of those categories neatly. Having rewitten the transfigurations series of articles to better accord with canon (using actual canon terms to classify things with, for example) I am hence now campaigning for their deletion from the wiki.
I'm just bringing this to your attention in case you wanted to vote for their deletion, so I can hopefully speed this process up. You'll find them on the Category:Candidates for deletion talk page incase you do want to vote for them. Many thanks for your time and consideration, Green Zubat 22:13, August 11, 2011 (UTC).
Thanks a lot, very much appreciated :) Green Zubat 22:31, August 11, 2011 (UTC).
Poor Sevvy
Oh, well that's convenient, I was just going to owl someone about that problem. Thanks again! You'd best be careful though; don't want to anger the Snapewives - Green Zubat 22:53, August 11, 2011 (UTC).
Severus Snape page
I think Severussnape0109 is less of a vandal and more of an idiot who skipped through the last book.
|_|HoboHunter28|_| 23:07, August 11, 2011 (UTC)
Excuse you, I am not an idiot. But you clearly seem to be since you are judging me without even knowing me. —The preceding unsigned comment was added by Severussnape0109 (talk • contribs).
Thanks for the warning. I'll be sure to give references in the future.
The Inflatable Tongue is mentioned in passing among many Zonko's products in the books, so therefore is considered part of the Harry Potter universe. Please remove that. Professor-Hagrid 01:58, August 13, 2011 (UTC)
Merging
Before two articles can be merged, there must be a community decision on which page should stay or whether to continue with the merge or not. That decision was never reached in respect to the Hagrid articles, and they shouldn't be merged until it has.--Matoro183 (Talk) 13:51, August 13, 2011 (UTC)
RE:Chat Mod
I'm not very active in the chat, I'm afraid, but since Speedysnitch vouched for you, I've changed your user rights. Happy chatmod-ing! --  Seth Cooper  owl post! 18:39, January 30, 2012 (UTC)
RE:Problem with User
Hello, there. As I've said to you once before, I do not usually use the chat function. Given this, I don't really have grounds to take further administrative action, as it is, basically, your word against the user's. His messages could be a way of requesting a lift of his/her wrongful block (not that I am implying that you are lying to me; I am trying to be the most objective as I can), although spamming is grounds for a cooldown block. Try to talk to the user: if he doesn't provide any relevant, serious argument against the block, then warn him/her that his repeated messages are being potentially badgering and that continuing in doing so may lead to a temporary block. --  Seth Cooper  owl post! 16:57, February 25, 2012 (UTC)
Speedy's nomination
Speedysnitch has accepted your admin nomination, so the vote can proceed. Don't forget that even though you put forth the nomination, you still need to do an actual vote for it to be counted. - Nick O'Demus 22:00, April 24, 2012 (UTC)