AHHHH
These dunderheads always do this to my articles even when i give a legit link. Could u help fix the pages coal and Healing Sparkle thnks 72.229.249.242 01:19, October 26, 2010 (UTC)
Arabella Figg: Unsung heroine
Hey there-- when you get a chance, do you think you could possibly do me the favor of looking over my changes to Arabella Figg? Her page was kind of a mess, and I've been trying to overhaul it. I know it's a pretty short article, but for some reason, when I work on just one article for a while, I realise I start losing perspective and missing little errors here and there, so I need a second pair of eyes. Also, I added a bunch of stuff, but I still feel like there could be stuff I've missed, so if you feel like there's anything crucial I should add, or that you want to add, that would be awesome. Thanks! --Emmy (★) 18:57, October 29, 2010 (UTC)
I was actually wondering about that too (and yeah, that was already there when I started editing the page). I was looking through OOTP and PS for any references, but other than the fact that she's "Mrs." Figg, explicitly, I can't see any direct mentions of her being married. I guess it probably makes more sense just to omit that bit? --Emmy (★) 19:24, October 29, 2010 (UTC)
I added a BTS about it, and removed "Mr.Figg" from the infobox. I'm not at all sure if I worded it in the best possible way, though. Does it come off too speculative? --Emmy (★) 19:39, October 29, 2010 (UTC)
I totally agree that it seems really unlikely that a Mr.Figg living with Mrs. Figg would not have been mentioned, but I'm not sure about going into any more detail, just because I can't even find any references to the Dursleys saying "Mrs. Figg's house" -- they just say "Mrs. Figg's has broken her leg. She can't take him." As unlikely as it is, that could just mean Mr. Figg is away on business a lot, or something. I'm both losing my mind and litterally flipping through the pages of HP&tPS, so if there are more references, it's very likely I've missed them, haha. --Emmy (★) 20:16, October 29, 2010 (UTC)
Re: BTW
Oh, awesome, that's so convenient-- thanks for looking up the pus-squirting hex so super speedily! --Emmy (★) 16:49, October 30, 2010 (UTC)
International Ministries of Magic
Hey, do you know if there's any kind of color system for the various national ministry infoboxes? I was trying to at least make them slightly less random in color by giving them at least the same 2nd background color (well... and I wanted to make sure the colors didn't clash...), but is there something already in place? Or should they maybe be colored based on their national flag, or maybe continent...? --Emmy (★) 17:48, November 1, 2010 (UTC)
Hey i need ur help with the page Penetration Curse i cretaed, plus i think Rubeus Hagrid's umbrella should be its own article.12.40.220.253 20:26, November 3, 2010 (UTC)
Both the "penetration spell" and "penetration curse" have had their articles deleted and their pages locked, because they are completely unverified. I really suggest you do not try to skirt around that and find a way to recreate the same page with a different name. --

Emmy

(★) 20:33, November 3, 2010 (UTC)
Hey Bachlynn, i tried a while back to make a Hurricane page, as a hurricane was mentioned in Book6 when comparing the giants rampage to that of this. Could u please create it, it keeps getting redirected to Enchanted Window.72.229.183.70 18:43, November 7, 2010 (UTC)
RE: just in case
Thanks, every little bit will help. Most of this is Wikia's responsibility, so the only thing we really need on our end is extra vigilance. Just keep on eye on the Recent Changes, New Articles, and New Images, since there's bound to be an increase in vandalism/trolling/spam/fanon due to the extra activity. - Nick O'Demus 00:05, November 10, 2010 (UTC)
RE: Voice actors
Don't forget though, some of the actors such as Rupert Grint voiced their own characters in the video games too, and then you've got actors like Toby Jones, who voice Dobby in the films but hasn't been in any of the video games yet. - Nick O'Demus 09:44, November 11, 2010 (UTC)
Also, I recorded the voice cast credits from the Wii OOTP and HBP video games a while back. If you want them for your own reference, I can upload them in a torrent for you (they're too large to upload directly here). - Nick O'Demus 04:00, November 19, 2010 (UTC)
I would say yes, actors like Rupert Grint would fall under both categories. I've uploaded the videos here (OotP) and here (HBP). - Nick O'Demus 05:13, November 19, 2010 (UTC)
It's there, you just have to scroll over to where the "V"'s are listed to see it. I would say that if the actor's only appearance was through voice-over, then the "Voice Actors" category should replace the "Actors" one. They should only keep both if they did both, like Rupert Grint. - Nick O'Demus 23:20, November 19, 2010 (UTC)
RE: Monobook
I've never really used Monobook, so I don't know. You might ask Grunny or Cavalier One, since they know a LOT more about formatting and the like than I do. (You can see on Grunny's talk page just how many times I've had to ask him about things like this.) : P - Nick O'Demus 16:24, November 11, 2010 (UTC)
Doh
All done :) - Cavalier One

(Wizarding Wireless Network) 00:31, November 12, 2010 (UTC)
 ?
How is a cape the same as a cloak?Donmax 05:50, November 12, 2010 (UTC)
Yeah
Yeah i wanna see the movie, also do u happen to know why hurricane keeps getting redirected to enchanted window? and can u tell when an edit u made has been undone?Donmax 21:54, November 12, 2010 (UTC)
Vandalism
Thanks for the heads up. I'll keep an eye on them. - Cavalier One

(Wizarding Wireless Network) 00:44, November 14, 2010 (UTC)
Hey
Remember when i made the page green orbs and it got redirected to killing curse, well heres proof. Go to Cavalier Ones' workpad on the sorcerers stone game under Harry fainting. Also block puzzle could be created tooDonmax 04:20, November 14, 2010 (UTC)
We Need Your Help For An Article About Harry Potter Wiki!
Hiya, Harry Potter Wiki has been getting a lot of attention thanks to the Wizarding World Giveaway and the Deathly Hallows premiere, and now a reporter from Yahoo! Movies wants to feature movie reviews from Harry Potter Wiki most passionate users in an article she's writing about the Deathly Hallows:Part 1 premiere!
Did you go to the midnight showing of Harry Potter and the Deathly Hallows: Part 1? Please help us promote the wiki by posting your expert review on the Review Page immediately... we need the reviews by 7am tomorrow morning PST. This is a HUGE opportunity to promote the wiki and everyone's hard work here.
Please post your review in the comments on the Review Page using this format if you're interested in being featured in an article and helping spread the word about Harry Potter Wiki:
Name:
Age:
Current City:
What did you do to celebrate the HP premiere?
Did you like the film? Why or why not?
What did you like or not like?
How does this film compare to the others?
Is this the best one yet?
Who gives strong performances? Who doesn't? Why?
Thank you! ---- Kacie
(talk) 10:43, November 19, 2010 (UTC)
Missing character page
Afraid I've got no idea about Terry Skeres. To be honest, I've had little to do with the Deathly Hallows film page. I'd check the article history and see who originally added it and ask them, since they may know. Might be fanon that someone slipped in. As for admin ... the important thing to remember is that being an admin is a huge responsibility. Its not something to be taken lightly, nor is it somehow a reward. With this in mind, the advice I give to editors looking to become admins is this: look at the current admins and see what they do. See what tasks they perform that you could also do and help there. Learn the policies and rules inside out until you can quote them in your sleep (not really - that's why we have links to them - but it helps :P). It's not about quantity but quality. A wiki is a meritocracy, and those that deserve the rights will attain them in my opinion. I hope that helps. - Cavalier One

(Wizarding Wireless Network) 11:46, November 19, 2010 (UTC)
Hello,

I am the one who said that Victoire Weasley was born between 1998 and 1999. I wanted to ask, why would she have been born between 2000 and 2001? Didn't JK Rowling say in "A Year in the Life" that she was born a year after the Second Wizarding War ended? I was quite sure. Please reply back.
thank you
much appreciated.Hazel-rah 21:38, November 20, 2010 (UTC).
Victoire Weasley
Forgive me, I did't explain myself properly.
I knew that Teddy had already graduated by 2017, I didn't mean to suggest that Fleur was giving birth while the Battle was commencing, and I knew Victoire was so named becuase of the event that occured on that glorious day in Wizarding history. I only meant that I was lead to believe that Victoire was born a year after 2 May, 1998. Because I heard about it somewhere, I thought it was in "J.K. Rowling: A Year In the Life." And I thought whoever said she was born between 2000 and 2001 was misinformed. Thank you for your kind explanation.
--Omarsamad
Thanks
Thanks for reverting that. I had to step out for a bit; it figures they'd launch into attack mode right then. - Nick O'Demus 13:27, November 24, 2010 (UTC)
Hey
Sorry, for not around recently going to school and having a part time job, really takes time away from things like this. Anyway, am I the only one to notice the Nazi imagery in the Ministry in the new movie? I added it to the article on Runcorn who is dressed like a Gestapo agent, but I think something needs to be added to the British Ministry of Magic article to reflect that as well (the guards when our heroes go to the ministry are dressed like SS soldiers). --JKoch

(Owl Me!) 16:23, November 26, 2010 (UTC)
Talk page comments
I'm still getting used to the new skin, since I haven't been on much recently. How do you get to comments left on talk pages. It seems that especially unreg. users are creating new pages when they mean to be editing the talk page. The only way I've found to read their comment is to get to the newly created page through their contribs list. You know what I'm talking about? --JKoch

(Owl Me!) 20:35, November 28, 2010 (UTC)
If you look at the recent activity log, a unregistered user tried to comment on the talk page for the article Peverell family. But if you look at the talk page, that comment is nowhere to be found. --JKoch(Owl Me!) 20:47, November 28, 2010 (UTC)
Re:Soul
Hey, Tom Riddle/Lord Voldemort split his soul into 8 pieces (Diary, Ring, Locket, Cup, Diadem, Harry, Snake, and the part that remained). However, I doubt that the parts were divided evenly. It is more likely that each was a significant chunk of whatever soul he had at the time of making. --JKoch

(Owl Me!) 20:27, November 29, 2010 (UTC)
Park
I actually think that is why the indented idea of having the park in the movie. Especially with the names of the dead and missing playing over the background. To show that the DEs were randomly acting Muggles. --JKoch

(Owl Me!) 18:44, December 2, 2010 (UTC)
Replicas
The wands, galleons, etc. are officially-licensed replicas made by the Noble Collection. Products manufactured under the official license of JKR or Warner Bros. can be treated as canon.
On the other hand, the replicas on ElkinsPotter.com were made by fans to raise money for a women's shelter, making them essentially fan art (although they got permission from WB to use its intellectual property for charity purposes). ★ Starstuff (Owl me!) 15:32, December 7, 2010 (UTC)
Curse
I have proposed a change that might satisfy some of the detractors to Unidentified lethal curse. See Talk:Unidentified lethal curse. Thanks, --JKoch

(Owl Me!) 22:27, December 7, 2010 (UTC)
RE:Editing Policies
It's not that big of a matter as their edits in talk pages have been constructive; still, I'll leave them a note on their talk page. -- 17:44, December 8, 2010 (UTC)
Actually, BachLynn, the Editing Policy only prohibits excessive user page and forum edits. It does not mention talk pages, and as Seth Cooper has pointed out, all my posts have been constructive. 86.145.92.21 17:59, December 8, 2010 (UTC)
Hi!
Hello, I've been wondering how you added the Gryffindor coat of arms next to you name...Please get back to me as soon as you can on my talk page, thank you! Luna Lovegood 22:37, December 8, 2010 (UTC)
 ???
: ( Nick O'Demus 09:04, December 11, 2010 (UTC)
Sorry to hear about the "break down", I hope things are going better now. I fixed the talk page for you. - Nick O'Demus 07:32, December 12, 2010 (UTC)
List
Hey I was wondering, since there's a page for a list of all known potions, should we create a page for a list of all known Potion ingrediants, and a page for a list of all known plants?--Raindrops 242 19:04, December 11, 2010 (UTC)
Fairy Tales
User:Toon Ganondorf is on the warpath against all of the article on Muggle Fairy Tales. He has added them all to candidates for deletion although, it doesn't appear that we are going to delete them. --JKoch

(Owl Me!) 16:35, December 12, 2010 (UTC)
His and Starstuff's argument about this is on the Category talk:Candidates for deletion. --JKoch(Owl Me!) 16:43, December 12, 2010 (UTC)
Re: editing
Thank you for being so polite to me :) At least you understand. NOw that I have editing figured out, I'm now working on custom signatures...The font thing is confusing, none of the ones I use work. Thanks again! *Luna 23:34, December 12, 2010 (UTC)
Re: fonts
I've tried Vivaldi and Edwardian Script. I want somthing that looks like nice cursive. I type it in, but my name is still the same...*Luna 23:38, December 12, 2010 (UTC)
Thank you so much! I'm very happy that you took the time to help me :) I can honestly say that I am suprised at how everyone is so nice on this wiki! I plan on sticking around for a while on here, I enjoy it very much. Thanks again! *Luna

(Talk) 23:54, December 13, 2010 (UTC)
I think I have all I need for now :) I've noticed you have created quite a few pages, and I'm trying to get twenty edits for my votes to be counted on QoW DYK. I've created a page about Sirius Black's owl, and may need some help for setting it up and everything. I put in a few sentences, but I don't want anyone to be disappointed in my page. Thank you! *Luna

(Talk) 02:06, December 14, 2010 (UTC)
Re: sirius black's owl
The only way I know is because I watched Harry Potter and the Goblet of Fire: Ultimate Edition last night. On one of the tree discs they have a bit about the animals. *Luna

(Talk) 02:15, December 14, 2010 (UTC)
Re:Help
Oh, like the voice of Dobby and Kreacher and things like that? I would be happy to help you! By the way, the dog on your profile is very cute :) *Luna

(Talk) 16:19, December 14, 2010 (UTC)
Okay, and where do I go to find this page? *Luna

(Talk) 16:30, December 14, 2010 (UTC)
Wow, thanks! I'll get to it, then :) *Luna

(Talk) 16:40, December 14, 2010 (UTC)
Re: image
Right, went to the coffe shop, got hot cocoa, and I'm ready for editing! This is why I posted it in comments rather than the page so I didn't cause any trouble about it. I'm looking for a photo of Sirius BLack's owl for the page right now, and can't find a thing! *Luna

(Talk) 18:03, December 14, 2010 (UTC)
Re: owl image
I'll try that, thanks! *Luna

(Talk) 18:27, December 14, 2010 (UTC)
I only takes me to One.com, what do I do then?
Thanks!
Alright, I got the photo! I might change it so I could get a bteer one, but it'll work for now :) *Luna

(Talk) 19:05, December 14, 2010 (UTC)
I added three photos to the photo gallery, so you can look to see wich one you like best.*Luna

(Talk) 19:15, December 14, 2010 (UTC)
Okay :) I find it essential that I ask anothers opinion. *Luna

(Talk) 22:41, December 14, 2010 (UTC)
Food/Creature
I think it depends on the context. Some creatures (such sa Tuna Fish) are more thought of as food; whereas, others like chickens are easier to visualize as an animal. --JKoch

(Owl Me!) 17:29, December 17, 2010 (UTC)
Trout and Haddock, definitiely creatures, salmon and Sardines edfintiely food. --JKoch

(Owl Me!) 17:37, December 17, 2010 (UTC)
Dark Arts
As to Polyjuice potion, I removed it from the page, but I must have forgotten to take the image off. As to, practitioners, Harry Potter is most certainly a practitioner of the Dark Arts, that does not necessarily making him a Dark Wizard. I think that intentions matter, which is why I believe that Dolores Umbridge is in fact a dark witch. --JKoch

(Owl Me!) 17:51, December 17, 2010 (UTC)
Template
Can you tell me how you got those templates on your user page? The ones that say what house you support or what character your a fan of? Thanks! *Luna

(Talk) 22:55, December 17, 2010 (UTC)
Thanks! Its too bad that the patronus one doesn't have a mouse patronus availible...oh, well :) *Luna

(Talk) 23:24, December 17, 2010 (UTC)
RE:Dark Arts
Ask away! =) I don't think Polyjuice was ever described as "Dark" (possibly whoever put the image in the article mixed "illegal" with "Dark"). As for Harry and Umbridge, neither is a Dark Wizard. Dark Wizards are those who actively practice (i.e. Death Eaters) and/or study (i.e. Owle Bullock) the Dark Arts. Harry or Umbridge may have used Dark spells sporadically in their lives, but that doesn't make them Dark wizards. Dumbledore, for instance, used the Dark Arts only when needed (the exchange between Parvati and Binns about Dark Arts being necessary to open the Chamber of Secrets in which he says "Just because a wizard doesn't use Dark Magic, doesn't mean he can't, Miss Pennyfeather. I repeat, if the likes of Dumbledore—"). I'm not that sure the Blood Quill is considered a piece of Dark Magic, with Umbridge using it on students with the knowledge of the rest of the staff (McGonagall). Perhaps just a brutal and "medieval" method of punishment that was not outlawed just like Filch's chains and manacles were. --  Seth Cooper  owl post! 00:14, December 18, 2010 (UTC)
RE:Question
If you don't go nuts with it, I don't see any problem. Just remember to place the image into the Images for use on the Harry Potter Wiki category. --  Seth Cooper  owl post! 00:14, December 18, 2010 (UTC)
Happy Holidays! =) --  Seth Cooper  owl post! 00:25, December 18, 2010 (UTC)
Re : suprise
Oh, I love it!!!! What an adorable little mouse picture you used! Thank you very much! If there is anything at all I can do for you, feel free to ask!!! *Luna

(Talk) 01:11, December 18, 2010 (UTC)
Well, when you make some,let me know so I can look at them! I wish I could live in Britan, too :) I hope to go there someday, though....might find that telephone booth and break into the Ministery of Magic, I know the code ;) Anyway, I made some new pages, I'm glad I finaly found things to make a page about! Thanks for editing some of them to make them better, I'm still not that good at making them yet. *Luna

(Talk) 01:19, December 18, 2010 (UTC)
Oooh, I really like those! I had an idea, what if you made one saying your animagus was a samoyed dog? you could use a puppy samoyed since they're so cute! Its just an idea, not a big deal :) I'll be sure to add the one for Evanna Lynch to my profile! Isn't this samoyed puppy cute? I found a picture while Google searching a bit ago:) *Luna

(Talk) 17:08, December 18, 2010 (UTC)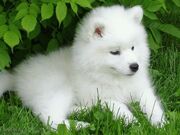 That'd be great! --  Seth Cooper  owl post! 20:05, December 19, 2010 (UTC)
User page Harry granger
Hi, BachLynn! I saw that you reverted edits of a user on my user page. I had not seen it, so thank you for doing. Can you tell me what he or she has done? Thank you! Harry granger 00:29, December 20, 2010 (UTC)
Hi, then thank you very much. I don't understand this. I had no contact with this user, so I could not have insulted him or her. That's difficult to understand. Harry granger 00:43, December 20, 2010 (UTC)
RE:Vomiting Charm
Oh. Ok, then. I thought it was some kind of translation of Slugulus Eructo, but you seem to be right. I'm not as sure if the game mentions the spell's vernacular name (Vomiting Charm), as I don't seem to find that anywhere but here. --  Seth Cooper  owl post! 17:06, December 21, 2010 (UTC)
DEAR JOSE IT JAIME
16:26, December 22, 2010 (UTC)209.80.156.44
Ravenclaw house crest
Hi BachLynn23, I just noticed your post on Hcoknohj's talk page. It was ultimately decided not to use the old house crests because the original source could not be located, and they are poor quality and do not fit properly in the infoboxes. The "raven" crest is also on the uniforms of every single Ravenclaw student in the film, so unless we are going to remove all images of Ravenclaw students there is little sense in changing the image. There are hundreads of small differences between the books and the films, such has Harry having brown hair and blue eyes, rather than black hair and green eyes. Unfortunately it's just something we have to accept. Thanks. Jayden Matthews 13:58, December 23, 2010 (UTC)
Happy Holidays!
Best regards. --  Seth Cooper  owl post! 14:55, December 24, 2010 (UTC)
Userboxes
Hello, sorry to be a bother, you were probably beginning to thin you had finally gotten rid of me :) But I had an idea for a userbox, if you like! I got to thinking, and I thought one perhaps saying "This user has lost passesions to nargels", or somthing of that sort. Let me know what you think, its just and idea. Happy Christmas! *Luna

(Talk) 15:17, December 24, 2010 (UTC)
Perhaps like a picture of Luna or her list of lost possesions...though the list would be hard to read on a userbox, I'm guessing. Or maybe a piicture of a cork necklace, since it keeps nargles away...
*Luna

(Talk)
19:42, December 24, 2010 (UTC)
Re: Nargles
I completly love all three, and, coinsidentally, I actualy do wear a cork neckalce! I posted them all on my profile right away! I love userboxes to do with Luna Lovegood. Thank you ever so much! *Luna

(Talk) 23:03, December 24, 2010 (UTC)
I guess i don't quite get the hang of all the codes and things...ah, well! One of them gave me an idea to make a page for mistletoe, though :) *Luna

(Talk) 00:07, December 25, 2010 (UTC)
I quite like it, although I find it a bit too long. Perhaps it would be better if you split that template into two: one listing all the departments, offices, boards, commitees and whatnot and another listing only the employees by Department (and perhaps yet another for the known Ministers). I quite like your new navigation templates; I had only seen the one for Astronomy before. Keep up the good work! ;) --  Seth Cooper  owl post! 19:01, December 30, 2010 (UTC)
Of course, they should have links, but what departments without an article are you referring to? --  Seth Cooper  owl post! 19:30, December 30, 2010 (UTC)
Oh, boy. Most of these deseve their own articles (except Lobby and Reception Area/Security Desk - we've already got an article on the Atrium). I've taken the liberty of moving "Senior Undersecretary of The Minister of Magic's Office" into Senior Undersecretary to the Minister for Magic's office (the article's name was quite a mess). As for the courtrooms, I think not, as we only know of one (Courtroom Ten - already in existence). Also, from my playing of Harry Potter and the Deathly Hallows: Part 1 (video game), we might as well add these two to the pile of articles to create: "Security Office" (at Level Eight, containing shelves with keys and informations about the lifts) and "Detention Area" (at Level Ten, with cells where Muggle-born wizards are waiting for trial/to be sent to Azkaban). --  Seth Cooper  owl post! 20:08, December 30, 2010 (UTC)
I've been looking for a reference myself. The only thing close I've managed to find was this:
""Well, that's really all I had to say. I will keep you posted of developments, Prime Minister — or, at least, I shall probably be too busy to come personally, in which case I shall send Fudge here. He has consented to stay on in an advisory capacity." Fudge attempted to smile, but was unsuccessful; he merely looked as though he had a toothache."
—Half-Blood Prince - chapter 1
It doesn't outright say "Advisor to the Minister", and there's no evidence he kept an office on Level One, though. --  Seth Cooper  owl post! 01:49, December 31, 2010 (UTC)
"Departments MoM Option 2" seems tidier, but if it weren't for its lenght I would prefer "Departments MoM Option 1". Oh well. They both look great! ;D Also, as you perhaps noted, I'm currently working on an article on the Ministry headquarters in London. Feel free to edit it if you want to fix anything in it! --  Seth Cooper  owl post! 02:07, December 31, 2010 (UTC)
To keep on the safe side, I say we should keep them separated. I, personally, have always seen those as: Magical Law Enforcement Patrol being like regular policemen; Ministry of Magic Witch Watchers like policemen centered in catching fugitives; Hit Wizards like elite policemen (as in SWAT); Aurors as criminal investigation (as in FBI). Well, I really need to get some sleep. I'll be back tomorrow. --  Seth Cooper  owl post! 02:30, December 31, 2010 (UTC)
Help
Hi, BachLynn, I hope you can help me. I made a mistake and now I don't know how to correct it. It is on the page: http://harrypotter.wikia.com/index.php?title=Hogwarts_School_of_Witchcraft_and_Wizardry&action=edit&section=13 I wanted to improve the picture of Professor Grubbly-Plank but now I have destroyed it. Can you please correct my mistake? Thank you for helping when you can! Harry granger 21:43, December 30, 2010 (UTC)
Bee Tee Dubs
Organization. --JKoch

(Owl Me!) 19:49, December 31, 2010 (UTC)
Good work
If you didn't already have a prefect badge, I would give you one for your heavy lifting on this Ministry project. --JKoch

(Owl Me!) 05:08, January 1, 2011 (UTC)
Staff
Shouldn't Minister for Magic and Support Staff just really be "Minister for Magic's Support Staff" or "Office of the Minister for Magic" and just focus on the staff? I mean we already have an article about the Minister him/herself. --JKoch

(Owl Me!) 05:34, January 1, 2011 (UTC)
I mean stylistically I like "Office..." better. It reminds me of Wikipedia:Executive Office of the President of the United States, which ironically also doesn't include the President. --JKoch(Owl Me!) 05:42, January 1, 2011 (UTC)

How's that? Also, there are references throughout the wiki to American things, on the Auror page, there are comparisons in the BTS to the FBI and SWAT. I think as long as it stays in the BTS it is ok. Think you can rework the Nav template, now? --JKoch(Owl Me!) 06:01, January 1, 2011 (UTC)
RE:Level 3
Perhaps making a similar navigation box with only one section titled "Personnel" and place the few employees we know of in there. That seems the best option. --  Seth Cooper  owl post! 00:06, January 2, 2011 (UTC)
RE:Levels 8 & 10
I'm not so sure about Level 8 employees... How do we even know Magical Maintainence is on Level 8? As for Level 10, how about having a box for Wizengamot/Council of Magical Law members? We'd have to take those off from Level 2, though. --  Seth Cooper  owl post! 15:44, January 2, 2011 (UTC)
I don't remember anything like that from the movie, although I might be wrong. Perhaps having both a Level 10 (with Courtroom Ten and Detention Area) and a employees (Wizengamot/CoML) navigation box? I'm not sure. On the Aurors matter I think we should merge the Auror Office template into the Level 2 employees one. --  Seth Cooper  owl post! 16:13, January 2, 2011 (UTC)
All the Departments/Offices/Boards/Comittees/Whatnot we don't know their location:
--  Seth Cooper  owl post! 16:32, January 2, 2011 (UTC)
RE:Misc. Ministry emp's
I was just thinking about that. I guess so. --  Seth Cooper  owl post! 18:47, January 2, 2011 (UTC)
There isn't. I guess we'll have to skim through the Ministry of Magic employees category. --  Seth Cooper  owl post! 18:54, January 2, 2011 (UTC)
I think it best to have a "Ministry bodies of unknown location" (or something among those lines) and add the known employees to it (as they are so few). For the other ones, a separate "Ministry employees of unknown Department" box. --  Seth Cooper  owl post! 22:44, January 2, 2011 (UTC)
I like the general idea, but some of the ones on the sandbox are rather large ... I'm sure there is code that can be used to collapse the template so that the contents can be hidden until a user clicks the "show" link on the header bar. That might be useful. Otherwise, nice job :) - Cavalier One

(Wizarding Wireless Network) 01:20, January 3, 2011 (UTC)
Vandal

Done --JKoch

(Owl Me!) 17:12, January 3, 2011 (UTC)
Hogwarts Locations
I was just browsing through Category:Hogwarts locations and I noticed that even though there are several sub-categories, almost all of the pages that have a Hogwarts locations category, they also have a sub-category. When I first started editing I was told that when adding categories, to not add the main category if the article already had a sub-category (i.e. I had added the category "Quidditch players" when an article already had teh category "Beaters"). So I was wondering if we should remove the main category and keep the sub-category, or just leave them as they are now becuase, well... there's more than 200 pages in "Hogwarts locations", and I figured I should ask before making such a large amount of edits. Raindrops 242 21:28, January 3, 2011 (UTC)
Yeah that's what I thought too. Thanks for the advice, I'm going to go remove the extra categories now. Raindrops 242 21:41, January 3, 2011 (UTC)
Re: Screenshots
Yeah, I don't think I've ever tried it before. But I just think it looks better than having all the images cluttered down the side of the page. --Cubs Fan (Talk to me) 21:37, January 3, 2011 (UTC)
RE:Classrooms
I agree with you. A classroom is not like, say, an office where the teachers actually take residence in. --  Seth Cooper  owl post! 11:56, January 4, 2011 (UTC)
RE:Hogwarts Castle project
Seems a nice idea. I don't think anyone is working on the Hogwarts Castle article though. Now I don't have much time to edit during the weekdays, but on weekends you can count me in to help. ;) --  Seth Cooper  owl post! 02:07, January 6, 2011 (UTC)
Hey, I think User:El Profeta Vespertino worked on that article a lot, but I haven't seen him around recently. Sorry, but I really know nothing about that article, other than it is a massive (Explitive deleted), lol. --JKoch(Owl Me!) 02:34, January 6, 2011 (UTC)
Abilities and skills
Honestly, I think many users are exaggerating when it comes to the skills of many characters. I had a user last night try to say that Fenrir Greyback was a "Master Duellist," when if anything the books show us that he prefers to fight with his brute strength. --JKoch

(Owl Me!) 19:13, January 7, 2011 (UTC)
Skills Forum
Hey, I have been looking into the "Magical abilities and skills" sections of many of our articles, and I have found some serious problems with users going overboard, so I started a forum to see if we could standardize the rules and come up with some criteria to determine whether a character is an "Expert Duellist" or just a "Skilled Duellist." It can be found here. --JKoch

(Owl Me!) 19:47, January 7, 2011 (UTC)
Grumble the Grubby Goat
Hey could you look at Sam (Grumble the Grubby Goat), Sam's brother (Grumble the Grubby Goat), Sam's father (Grumble the Grubby Goat), Sam's mother (Grumble the Grubby Goat) ‎and Grumble? Two different unregistered contributers created these articles last night, and a set unregistered contributers went to Grumble the Grubby Goat and added an entire section detailing the story. I'm not sure, but I think it's all fanon, becuase the cource they cited seems made-up. I've added the Verify templates, but I thought as a prefect user it should be brought to your attention. Raindrops 242 20:12, January 7, 2011 (UTC)
I thought so too. Should they be deleted then? Grumble is mentioned, but I don't think there's enough information to warnt it's own article, becuase everything we know about Grumble the goat is covered in Grumble the Grubby Goat. Raindrops 242 20:43, January 7, 2011 (UTC)‎‎
RE:Trophy room
Third floor, definitely. This an obvious case of literary canon trumping movie/game canon. --  Seth Cooper  owl post! 17:38, January 8, 2011 (UTC)
RE:Below ground floor
The "staffroom" is definitely on the ground floor, off the entrance hall (Philosopher's Stone chapter 16. Also, all the video games in which it is featured). "Training Grounds", I would say grounds, but as for "Secret room near the Training Grounds", I'm not as sure. It is technically inside (and a few feet from the ground), but the only entrance is in the grounds, so perhaps grounds is better. "Training Grounds Entrance" seems to be on the ground floor, as does "Suspension Bridge entrance". --  Seth Cooper  owl post! 21:00, January 8, 2011 (UTC)
RE:Books
I did not quite get it: are you saying that the user has been removing the italics from book names in the articles' body? Can you provide a link? --  Seth Cooper  owl post! 22:00, January 8, 2011 (UTC)
Oh. Those are supposed to be there, so I guess I'll revert that. --  Seth Cooper  owl post! 22:32, January 8, 2011 (UTC)
I agree with you. I'm sure it wasn't with malicious intent. --  Seth Cooper  owl post! 22:39, January 8, 2011 (UTC)
RE:Next set of location questions
Classroom 1B - location uncertain in the books, so yes, it is adjacent to the Middle Courtyard per the films
Temporary Defence Against the Dark Arts Classroom - I don't think its location is specified in the books, so yes
Transfiguration department - naturally
Mirror of Erised storage room - in Philosopher's Stone, while in the narrow corridor leading to this room, Harry notes that he must be five floors above the kitchens, so this is located on the fourth floor and cannot be in the Middle Courtyard
One-Eyed Witch Passage - mentioned specifically to be in the third-floor in Prisoner of Azkaban (chapter 10), in the Gunhilda of Gorsemoor Corridor (per the video games)
Greenhouses - definitely in the grounds --  Seth Cooper  owl post! 22:00, January 8, 2011 (UTC)
RE:More Questions (first floor)
Muggle Studies Classroom - Prisoner of Azkaban (chapter 16) supports this, as it is said that "Harry's and Ron's last exam was Divination; Hermione's, Muggle Studies. They walked up the marble staircase together; Hermione left them on the first floor and Harry and Ron proceeded all the way up to the seventh [...]"
Classroom 3C - on this one, I'm not sure if I agree with The Lexicon. Harry and Lockhart's way from the courtyard to the DADA classroom is very undetailed in the book, and given they entered the building from a side door (and thus not into the Entrance Hall) we don't know how many floors they actually climbed (because the referred staircase, unlike the Marble Staircase, may span more than just one floor). The only thing that makes us sure of is that it definitely isn't located on the ground floor. I'd say we can stick with the films and say third floor.
Classroom 4F - On this one I agree with The Lexicon. Also, Order of the Phoenix (chapter 17) implies Binns's classroom is one floor above the ground floor (to get to the staffroom, Harry sets off "downstairs").
Hospital wing - First floor, accdg to Chamber of Secrets, because on chapter 14 we learn that it isn't on the ground floor (they have to climb the Marble Staircase to get there) and on chapter 13 we know that Moaning Myrtle's (second-floor) is at least one floor above the hospital wing. --  Seth Cooper  owl post! 23:58, January 8, 2011 (UTC)
I'd say the Herbology Store is on ground-floor level too. --  Seth Cooper  owl post! 00:00, January 9, 2011 (UTC)
RE:Questions second floor
Charms Corridor - definitely third floor per the Midnight Duel debacle (Philosopher's Stone chapter 9) - "Ducking under Peeves, they ran for their lives, right to the end of the corridor [by this time they were at the Charms Corridor, accdg. to Peeves] where they slammed into a door — and it was locked [the Forbidden Corridor, which we know to be on the third floor]."
Classroom 2E - Philosopher's Stone chapter 9 says the Charms Classroom in on the Charms Corridor; see above
Charms staircase - leading from the ground floor (Middle Courtyard) to the first floor level of the Training Grounds Tower (per the video games). Not so sure if it shouldn't be renamed, though.
Hogwarts Library - on the fourth floor, by the same reasoning I used with "Mirror of Erised storage room". There is a problem, though: the GBC versions present us with a two-storey library (third and fourth floor). As nothing in the books contradicts this, we have to list it on both floors.
Restricted Section - fourth floor, see above. Although the GBC video game lists it on the third floor, on chapter 12 of Philosopher's Stone Harry leaves the library via the closest door to the Restricted Section and finds himself on the fourth-floor corridor. --  Seth Cooper  owl post! 01:11, January 9, 2011 (UTC)
Well, the entrance to Dumbledore's office being in a courtyard definitely goes against the books, where it is always described as being in a corridor. The thing is, the floor changes from book to book: on Chamber of Secrets (chapter 11) it is on the same floor Justin Finch-Fletchley was Petrified (which might be the same floor as the library, the narrative is not very clear); on Goblet of Fire (chapter 28) it's specified to be halfway along an empty second-floor corridor; and in Half-Blood Prince (chapter 10), it is mentioned as being on the seventh-floor corridor. The location of the office is not mentioned in Deathly Hallows (or, at least I didn't notice it). --  Seth Cooper  owl post! 01:35, January 9, 2011 (UTC)
Classroom 2E - third floor (already listed, two posts above).
Armoury - adjacent to the Trophy Room, so yes, third floor.
Horace Slughorn's second office - never found its location in the books (and The Lexicon never mentions it); accdg to the video game is on the sixth-floor corridor
Classroom 7A - never mentioned in the books, I believe. All the video games in which it is featured give its location as the seventh floor.
Divination Tower/Trelawney's Office - I'd place it under seventh floor, as the books never mention an "eighth" nor a "ninth floor".
Northern Courtyard, Clock Tower Courtyard, and Northern Courtyard Annex - grounds, definitely
Hogwarts East - not sure, I've never played "Lego: Harry Potter" for NDS. You should ask El Profeta Vespertino. --  Seth Cooper  owl post! 01:50, January 9, 2011 (UTC)
RE:Possible answer to Dumbledore's office
That would perhaps be the best thing to do. --  Seth Cooper  owl post! 01:52, January 9, 2011 (UTC)
Writting supplies room
Hi, BachLynn, I saw your new article. But I think it must be called Writing supplies room and not Writting supplies room. In the text I can read Writing supplies room but the title is Writting supplies room. Or is this an error of me? Harry granger 19:59, January 9, 2011 (UTC)
Sorry, I thought you created it but would'nt it make more sense with Writing than with Writting? Would do you think? Harry granger 20:20, January 9, 2011 (UTC)
RE:A few more questions
Passage of the Fouls: supposedly adjacent to the History of Magic classroom, so yes, first floor (as is Detention Chamber)
Gargoyle Corridor: you should include it (as to where, I'm not sure) --  Seth Cooper  owl post! 00:50, January 10, 2011 (UTC)
RE:Hogwarts castle info box
It should definitely be "location". --  Seth Cooper  owl post! 00:50, January 10, 2011 (UTC)