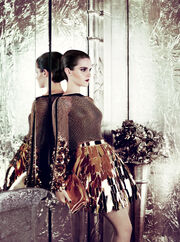 Emma Watson recently celebrated her twenty-first birthday yesterday. Though wildly rich and successful, this didn't stop her from pondering her life as many of us tend to do on our birthday.
Emma Watson discussed the absence of having a childhood with the LA Times. "They found me and picked me for the part," she said. "And now I'm desperately trying to find my way through it."
With the closing of the Harry Potter series July 15th, Emma Watson is trying to figure out what to do next. Finally, she will be free from playing the role of Hermione Granger. She has mentioned that she has an interest in fashion and design, which she will pursue while still staying involved with film.
Her next film will see her starring in the film adaptation of "The Perks of Being a Wallflower." She was also interviewed and photographed by Vogue.
What kinds of roles would you like to see Emma Watson play in the future? Do you believe that she would make a good fashion designer?
Gallery
Sources