Comments

2
New Harry Potter Featurette is Filled with Goblins, Spoilers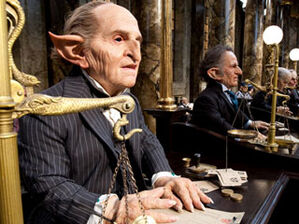 The most recent featurette promoting
Harry Potter and the Deathly Hallows: Part 2
is all about the much-anticipated
Gringotts
break-in. Amongst other details, the cast and crew talk about the changes to
Griphook
's character from the rather simplified cameo in the
Philosopher's Stone
movie, show a bit of
Helena Bonham Carter
playing
Hermione
playing
Bellatrix
, talk about the new design for the Gringotts carts, and show some new footage of the
Lestrange vault
itself, multiplying treasure and all.

Suffice it to say, there are a ton of movie spoilers, so don't click if you don't want your movie experienced ruined. Everyone else can go right here and check it out.
Ad blocker interference detected!
Wikia is a free-to-use site that makes money from advertising. We have a modified experience for viewers using ad blockers

Wikia is not accessible if you've made further modifications. Remove the custom ad blocker rule(s) and the page will load as expected.