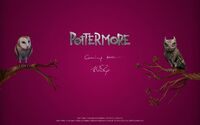 For those Harry Potter fans eagerly awaiting entry into Pottermore, this exclusive look at a real Pottermore early entry email is sure to titillate you. One of our users- Kerin Morataya- was cool enough to send us a screenshot of the email. Let's cross our fingers and hope we see this in our inbox sometime soon!
In other Pottermore news, check the Pottermore website for the answers to the questions asked in the Magical Quill Challenge, and don't forget to enter our Golden Snitch Giveaway!
And congratulations Kerin!