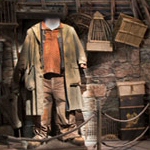 The all-popular Harry Potter: The Exhibition will be ending its voyage around North America to start traveling internationally. Its last stop will be at Discovery Times Square in New York City, and starting September 5, it will no longer be a North American attraction.
Harry Potter: The Exhibition has been journeying all over North America since 2009. Many Potter fans hope to see this fabulous exhibit, which gives Potter fans an up-close look at the costumes and props used in the Harry Potter films, and luckily they still have time to witness the magic! They can buy tickets online at www.DiscoveryTS.com, at the Discovery Times Square box office (226 West 44th Street) or by calling (866) 987-9692.
For those of you wondering what the next step is for this wondrous exhibition, Australian fans will be overjoyed to find out that from November 19, 2011 to March 18, 2012, Harry Potter: The Exhibition will be going "down under" in Sydney, Australia at the Powerhouse Museum. Get excited, Aussies, and Americans, it's time to say one last farewell to one of the coolest Harry Potter exhibits around! But before you do, enter our Golden Snitch Giveaway!
Source: The-Leaky-Cauldron.org