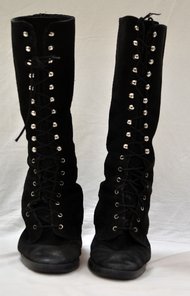 Recently, a company in Omaha announced they will be auctioning off a pair of boots worn by J.K. Rowling during the time that she penned the Harry Potter series (or at least some of the books-- I can't imagine the boots were magical enough, so to speak, to last through the many Potter years!)
It is likely that the boots will sell for a large amount, especially since a one-sentence letter written by J.D. Salinger to his maid recently sold for $50,000. The boots are being sold by Blue Earth Benefit Auctions in this online auction which will start Friday.
Ten percent of the money paid for the boots will go toward the Omaha Schools Foundation and Susan G. Komen For The Cure. Excited to see how much these boots will go for? Why don't you guess? Comment below and tell us!
Source: NYtimes