Comments

0
Get ready for LEGO Harry Potter: Years 5-7 Available November 15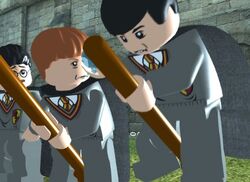 Just because the series is over doesn't mean the fun has to end! If you liked LEGO Harry Potter: Years 1-4, you'll love the years 5-7 version, hitting shelves on November 15, according to Amazon.com.
The game will be available for XBOX 360, PS3, PSP, NGP, Wii, Nintendo DS and Windows PC.
While you wait for the release of LEGO Harry Potter: Years 5-7, enter our Golden Snitch Giveaway!
Source: Mugglenet.com
Ad blocker interference detected!
Wikia is a free-to-use site that makes money from advertising. We have a modified experience for viewers using ad blockers

Wikia is not accessible if you've made further modifications. Remove the custom ad blocker rule(s) and the page will load as expected.