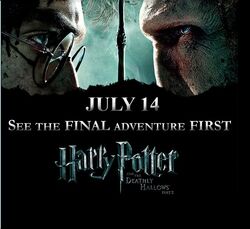 Hey Harry Potter Wikians!
By now you should have gotten an invite from Wikia for the pre-screening of Harry Potter on the 14th! We are SO excited to share this amazing event with you and hope that you have/will RSVP to Harry Potter and the Deathly Hallows Part II!!
Please RSVP here! We would love for everyone to come but please remember that there are a limited amount of tickets so it's first come, first serve. If you have not gotten an invitation from us, no worries; you can still RSVP at the link above.
We hope you're just as excited as we are! We look forward to seeing people's best Harry Potter costumes!