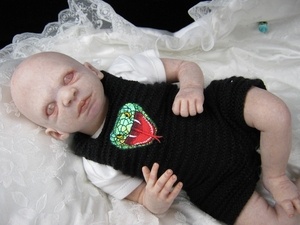 Hey Harry Potter fans! Get a load of these dolls designed by Tracy Ann Lister! Even if you're the most hardcore Harry Potter memorabilia collector, you may balk at the thought of picking one of these up for yourself (or your unsuspecting little family members).
Although Baby Voldemort is certainly frightening looking, I find little Dobby to look just as disturbing, not to mention Lupin. He wasn't always a werewolf! Harry and Snape look mildly less frightening...but what happened to the cuddly dolls?
What do you think, do you want these dolls? They do come with customized jumpers!
Gallery
Ad blocker interference detected!
Wikia is a free-to-use site that makes money from advertising. We have a modified experience for viewers using ad blockers

Wikia is not accessible if you've made further modifications. Remove the custom ad blocker rule(s) and the page will load as expected.