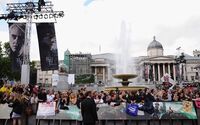 The London World Premiere event for Harry Potter and the Deathly Hallows Part II was totally amazing, with tearful anecdotes from the actors and J.K. Rowling; new scenes from the movie, and general excitement over the end of a magical era.
Now, America will get to experience the same excitement in New York today! Just a mere 3 days before the premiere of the Deathly Hallows Part II, the stars have come to New York for the red-carpet premiere event! We will be live-streaming the event RIGHT HERE on the wiki as it kicks off in approximately one hour! Don't miss the last ever American premiere of Harry Potter!
You can also watch the event at Popsugar TV!
Live Stream Event!