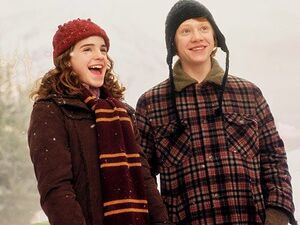 "It All Ends"- This is the dramatic tagline for Harry Potter posters around the world; but for many fans of the series, Harry Potter and the Deathly Hallows is also about the beginning of a very important relationship in the series. I'm talking about Ron and Hermione of course! One of the most consistently entertaining relationship in the series, Ron and Hermione were "Ron and Hermione" before they even realized it.
To capture the moment when Hermione impulsively kisses Ron during the Battle of Hogwarts, actors Emma Watson and Rupert Grint discuss how they felt about the monumental moment! Check out the interview below to watch the on-screen lovebirds.
Video
Ad blocker interference detected!
Wikia is a free-to-use site that makes money from advertising. We have a modified experience for viewers using ad blockers

Wikia is not accessible if you've made further modifications. Remove the custom ad blocker rule(s) and the page will load as expected.