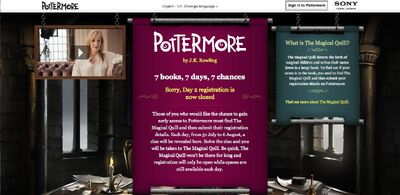 Hey Potter fans!
Since Pottermore officially kicked off last night, symbolically on Harry Potter's birthday, we wanted to give you some updates on what's happening with the newest form of Harry Potter media mania!
If you didn't get a chance to register today or yesterday, don't panic! You still have other chances to try it out; also all you'll be doing is registering your username and password. We put the page for clues and instructions on the right, which you can also go to at Pottermore.
Be sure to check back on Harry Potter Wiki for more updates on Pottermore! We'll also have updates via Official_HPWiki so be sure to follow us on Twitter!
Special Twitter Update on Pottermore!
One of our most dedicated followers, @blerns3 CRACKED POTTERMORE and gave us a live update of the process!
1. well at this point you can't get into the beta site yet, you just log in and it says congrats for solving the clue and..
2 ...then it says that I will be one of the lucky few to "shape the experience" before it opens to the public and to...
3 ...wait for a welcome email after the weeklong contest and then we can log in and experience #pottermore!
4. I sure deserved to get in since I stayed up till 3:56 AM EST when the clue was revealed and then didn't sleep till 5:15...
Thanks a lot, @Blerns3!
Also a special thanks to @creamopuff and @CarlyBoone for their Pottermore updates on @Offial_HPWiki!
If anyone registered and got a validation email, please share (and celebrate) with us in the comments!