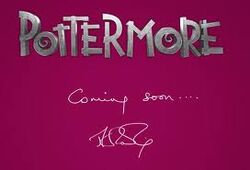 I'm sure all Harry Potter fans have heard about the "Pottermore" Project that's been buzzing all over the web. When we hear Harry Potter and J.K Rowling how can we not get excited? While I was personally holding on to the hope that she would somehow create a Harry Potter encyclopedia or some extension of the books, Yahoo Games just broke news that Pottermore is in fact, a game.
To be more specific, it will be a realistic game-world that's reminiscent of "World of Warcraft with real world treasure hunts. Users will dig up clues, which will let them find prizes in the real world."
Of course, this is all preliminary information; we don't know exactly what Pottermore is, just that it is not another Potter book. The Leaky Cauldron is hailing it as a masterpiece to the Harry Potter fandom world...but that still remains to be seen.
Details will officially be posted tomorrow via Youtube! What do you think; do we want a Harry Potter game?