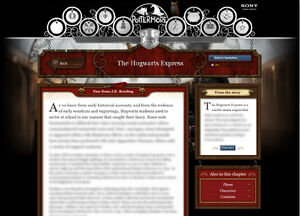 Pottermore Insider is now taking questions! Popular Harry Potter fansites around the world have picked top questions that their readers are most curious about to ask the people at Pottermore.
We'll be able to register at Pottermore as soon as they are open to the public (although you can register partially now!) AND everyone will get Sorted! The Sorting Hat's decision is final and omniscient!
Check out the Q & A transcript, courtesy of Pottermore:
Q1: Will Pottermore be available in multiple languages?
A1: Yes. Initially, Pottermore will be available in English, French, German, Italian and Spanish. We are aiming to introduce more languages in the future – including Japanese and Korean later this year. You'll be able to keep track of language availability here on the Insider.
Q2: Will Pottermore be free?
A2: Yes, access to Pottermore will be completely free; you won't have to pay anything to use the site. The Pottermore Shop will have items in it that you'll be able to buy, but choosing to purchase something – or not – won't affect your progress through the story as the Shop sits outside of the online reading experience.
Q3: Can you please explain what you mean by 'online reading experience'? How much will I, as a Pottermore user, be able to affect the story? After all, hasn't Harry's story already been told?
A3: The best way to think of Pottermore is as an interactive, illustrated companion to the books. J.K. Rowling wanted to create a site where her stories could live on and where readers could explore them in a new way. In addition to discovering new material from J.K. Rowling about Harry's world, you'll be able to interact with key story Moments (the Sorting Hat sequence, for example) and upload your own comments, thoughts and artwork for all the characters, objects and places that you come across.
Q4: Isn't there a House Cup that we compete for by earning points?
A4: Yes, there is. As you progress through the story you'll also be able to earn house points – and once you get to the end of the first book you can carry on earning points to help your house win the House Cup.
Q5: Is Pottermore the Harry Potter encyclopedia?
A5: J.K. Rowling has written exclusive new material especially for Pottermore giving unique insights, back stories and additional information about the characters, places and objects in the Harry Potter series. For now, Pottermore is the only place you'll be able to find new information from J.K. Rowling about Harry's world, and we'll be releasing this material as each of the seven books appears on the site.
Q6: Once I've been sorted, will I be able to change houses?
A6: J.K. Rowling has created a series of questions for the Sorting Hat, and how you answer these questions will determine which of the four houses you'll be in. Once you've been sorted, you won't be able to change; the Sorting Hat's decision is final!
Read the full transcript here!