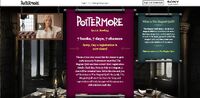 Hey Potterheads! Have you gotten access to Pottermore yet? Be sure to share your triumphs with us here or on the Pottermore Updates page!
Breaking news is that Day 4 beta clue registration is closed...it was only up for 30 minutes! You can of course, try tomorrow although we don't know what time it will open again! Remember that while Pottermore won't be available until October, registering now will allow you access earlier!
Did you solve the fourth beta clue yet? Tell us your Pottermore names!
Ad blocker interference detected!
Wikia is a free-to-use site that makes money from advertising. We have a modified experience for viewers using ad blockers

Wikia is not accessible if you've made further modifications. Remove the custom ad blocker rule(s) and the page will load as expected.