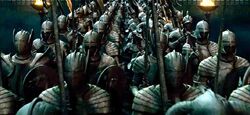 Harry Potter fans!
I have exciting news! An amazing Harry Potter fansite (not unlike our own!) Snitchseeker had the chance to go behind the scenes and check out Harry Potter and the Deathly Hallows II!
They not only interviewed some of the cast members but also witnessed a night scene at Hogwarts. It sounds like a part of the Battle of Hogwarts since they mentioned McGonagall and Flitwick along with Molly Weasley, Seamus Finnegan, Neville Longbottom and Cho Chang!
They also heard Professor McGonagall shout: Hogwarts is threatened! Man the boundries! Protect us! Do your duty to the school!
How exciting is that?? They will put up a full report of their visit and we'll be sure to repost it here for everyone as well!
Kate.moon 19:55, May 4, 2011 (UTC)