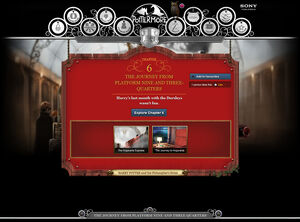 The first of three Pottermore previews has been released as promised via @pottermore and The Leaky Cauldron!
Check out the snapshot of Pottermore as it details Chapter 6 of Harry Potter and the Sorcerer's Stone, titled "Journey from Platform Nine and Three-Quarters!" Of course you know this is the moment Harry meets Ron and the Weasleys at Platform 9¾.
There will be even more previews soon so be sure to check back for more details and glimpses at our new HP obsession!