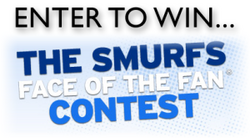 Hey Harry Potter fans!
This isn't strictly related to Harry Potter but it's such a great contest that we wanted to let you guys know!
Are you a child of the 80's who grew up watching the Smurfs? We did! Sony is having a fun contest that's great for kids and those of us who are kids at heart! Win a chance to go to the premiere of the Smurfs movie with family and friends and receive VIP status! Check out the details here: http://www.faceofthefan.com/thesmurfs/
Happy Smurfing!
Kate.moon 17:43, March 22, 2011 (UTC)