Comments

0
Digitally Distribute the Harry Potter Video Games
Ad blocker interference detected!
Wikia is a free-to-use site that makes money from advertising. We have a modified experience for viewers using ad blockers

Wikia is not accessible if you've made further modifications. Remove the custom ad blocker rule(s) and the page will load as expected.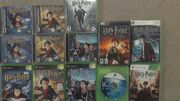 With the release of the Lego Harry Potter games, the ones based off the movies sits to collect dust. These games are not being digitally distributed. The first games are becoming non playable because of SecuROM (old CD/DVD copy protection driver) missing on Windows 10. Although the series receives much criticism, there are many that would like to repurchase these games on a market like Steam. There is a petition on change.org called "
Digitally Distribute the Harry Potter Games
" that is still in its baby stages. While it has acquired 300+ signatures, it would probably not be close enough to do the job and get noticed by WB Games. While the rights were originally obtained with EA, it isn't quite clear if they still own rights. I encourage you all to sign and spread this petition. If you have Steam, look for the "JoinHarryPotterGamePetition" group and invite your Steam friends to spread the word! There are also things like promotional videos you can spread: