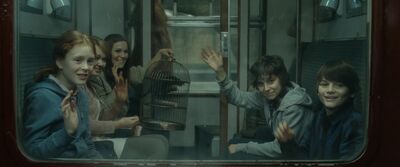 At the end of Harry Potter and the Deathly Hallows: Part 2, we see Albus, Rose and James on the Hogwarts Express. But who are the two girls in the compartment with them?
These girls are clearly several years older than the three named kids, but seem familiar with them. I think they could be their cousins.
I think the blonde is Victoire, Bill and Fleur's eldest child and Teddy's girlfriend. Luke Newberry was cast as Teddy, but his scene was cut. Why would they plan to include Teddy if they weren't gonna have Victoire as well?
I think the brunette is Molly II, Percy and Audrey's daughter. She was likely a student by 2017, since Percy was at King's Cross Station that day.
What do you think?