Harry Potter fans, check this out! DreamWorks has just picked up the movie rights to Leigh Bardugo's bestseller Shadow and Bone, about an orphan girl whose ability to harness a rare magic makes her one of her nation's most coveted warriors!
Remember David Heyman? The producer, who in the late '90s had the wise instinct to secure the film rights to J.K. Rowling's wizard-verse, will be producing Shadow and Bone! That means this series has to potential to be turned into the next Harry Potter-style film franchise, which would be pretty cool!
Check out the trailer here:
More on Shadow and Bone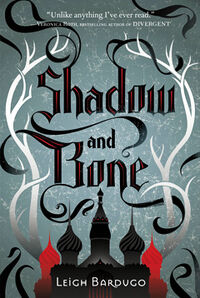 The book, which debuted in June, is set in a fantasy version of Russia called Ravka, which is bisected by a territory called the Shadow Fold, brimming with a breed of flying fiends who feast on human flesh. The leadership of Ravka studies children to find those who can wield the power of the elements — fire, wind, water — or can mystically heal, then recruits these powerful young ones into the elite monster-fighting squad known as The Grisha, while all others are conscripted into brutal life in the regular army. Alina Starkov is one of the latter — a seeming nobody who serves as a mere cartographer until her best friend, Mal, is wounded in an attack, triggering her latent ability to harness the power of light. Not many others in Ravka can do that, and Alina becomes both a prize and a target due to her rare abilities.
If you're interested, check out our Shadow and Bone wiki now!
Source
---
---