A Puffskein and its derivatives are beasts created by J.K. Rowling and belong to her Wizarding World. See Harry Potter Wiki:Canon to understand the degree of canonicity of the following information.
Puffskein
A Puffskein is covered in soft fur and spherical in shape. It is a popular pet found worldwide that does not object to being cuddled or thrown about. The Puffskein is a scavenger, eating anything from leftovers to spiders, but it particularly likes to use its long thin pink tongue to eat wizards' bogeys while they sleep. This makes them a popular wizarding pet. The Puffskein is easy to care for, and they emit a low humming sound when they are content.[2] A group of Puffskeins or Pygmy Puffs is referred to as a poffle.[8] Shaved (or trimmed with a clipper) Puffskein hair has magical properties, and is useful as a potion ingredient, such as in Zygmunt Budge's variation of the Laughing Potion which requires a few handfuls.[3]
History
According to Albus Dumbledore, a copy of Fantastic Beasts and Where to Find Them resides in almost every wizarding household in the country[9] used by generations of wizards in search of the best way to cure their pet Puffskein of drinking out of the toilet.[10]
Ron Weasley owned a Puffskein at one point. Its demise is attributed to Fred, who supposedly used it for Bludger practise.[2]
George Weasley reported that a nest of dead puffskeins was discovered by Molly Weasley at 12 Grimmauld Place under the sofa in the drawing room in August 1995.[7]
For Zygmunt Budge, Puffskeins are pointless creature in the name but an invaluable creature for the potion maker and the fact that anyone would want such a tedious beast as a pet is quite beyond him.[11]
The Magical Menagerie sales Puffskeins.[12][1]
They were modified by Fred and George to create Pygmy Puffs.[4]
Behind the scenes
Appearances
A Pygmy Puff is a miniature Puffskein, bred by Fred and George Weasley and sold at their shop Weasleys' Wizard Wheezes at 93 Diagon Alley in London, as one of the known products in the WonderWitch range. It is one of their most popular products, as George said they were having trouble breeding them fast enough for the demand.[4] Ginny Weasley bought a purple Pygmy Puff named Arnold in August 1996,[15] which she played with at Hogwarts.[16] Baby Pygmy Puffs are on also sale at the Magical Menagerie.[12]

Pygmy Puffs resemble little fluffy balls that roll around, squeak and come in various shades of pink and purple.[4] Luna Lovegood believed that all Pygmy Puffs sing on Boxing Day.[17] A group of Puffskeins or Pygmy Puffs is called a poffle.[8]
Ginny once joked that her brother Ron had a tattoo of a Pygmy Puff, without saying where, when Romilda Vane was pestering her about whether Harry Potter had a tattoo of a Hippogriff.[18]
During the investigation of their 9th case, Mathilda Grimblehawk and her partner have to follow a trail of blood. Once arrived to the graveyard it led to, Mathilda says "Why am I surprised? It was hardly going to lead to a basket of Pygmy Puffs!".[19]
Behind the scenes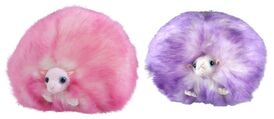 Appearances
Fanged Puffskeins are a wizard-bred variety of Puffskein, presumably bred to give them fangs. The creation of fanged Puffskeins is illegal (due to the 1965 Ban on Experimental Breeding) and punishable by the Wizengamot.[6]
Appearances
"…there's only one breeder of Appaloosa Puffskeins in the world and he lives in New York…"
—Newt Scamander to Tina Goldstein in 1926
Appaloosa Puffskeins were a breed of Puffskein illegally bred by only one breeder in the world, working in New York until 1925.[22] Newt Scamander explained to the British Envoy to the International Confederation[27] and Tina Goldstein that he went to New York in 1926 to buy one as a birthday present.[5]
Appearances
As Pets
"... he walked straight into Ginny, Arnold the Pygmy Puff riding on her shoulder and Crookshanks mewing hopefully at her heels [...] his yellow eyes fixed upon Arnold..."
— Harry bumping into Ginny during a party in the Gryffindor common room in Hogwarts in late 1996
Arnold was Ginny Weasley's purple Pygmy Puff,[15] or miniature Puffskein.[4]
Biography
Arnold was purchased from Ginny's brothers Fred and George Weasley at their shop in August of 1996.[4] Arnold was transported in a cage during the car ride from The Burrow to King's Cross Station on 1 September 1996.[15] In the Gryffindor common room in Hogwarts he was seen playing with Ginny[16] or riding her shoulder.[28] It is likely that he was taken with the Weasleys when the family went into hiding in the spring of 1998.
Etymology
Ginny's father, Arthur Weasley, was mistakenly called "Arnold Weasley" in a 1994 Daily Prophet article written by Rita Skeeter. "Arnold" is also an anagram of "Ronald", a possible reference to Ginny's older brother.
Behind the scenes
Appearances
This Puffskein belonged to the Weasley family[2] in the early 1990s. He was kept in the family's Puffskein patch, where his favourite delicacies included wild bushes.[29] Sometime before 1992, Fred Weasley, along with his twin brother George,[29] used the family's Puffskein as a Bludger during Quidditch practise.[2] Ginevra Weasley would in her youth look after the creature in its patch to make sure the twins did not do it again.[29]
In August, 1992, the Puffskein swallowed Ginny's Remembrall, and escaped to a small forest area. Ginny followed it and got lost, only to be found along with the Puffskein by Harry Potter.[29]
Appearances
Puffskein's Patches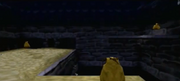 This patch was an secluded area in the Hogwarts grounds, in a arboreal area close to the Gargoyle Gate, in which a poffle of Puffskeins was kept. The patch spanned a very long area and had warmers, on which the Puffskeins liked to sit.[30]
Appearances
"Hey look! Ginny's over by the Puffskein patch. Why don't you go and chat to her? She's been a bit shy lately — I wonder why? I'm off to see what dad's up to."
—Ronald Weasley to Harry Potter in August, 1992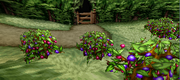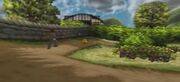 The Puffskein patch was where the Weasley family kept their pet Puffskein. It was a large enclosure with wild bushes, which the Puffskein enjoyed eating. Before going to Hogwarts School, Ginny Weasley spent quite a bit of time in this enclosure making sure her brothers, Fred and George, did not use the family pet as a Bludger during Quidditch practise.[29]
Appearances
Notes and references
↑ 1.0 1.1 Harry Potter and the Prisoner of Azkaban, Chapter 4 (The Leaky Cauldron) - "...a basket of funny custard-coloured furballs that were humming loudly..."
↑ 2.0 2.1 2.2 2.3 2.4 2.5 2.6 Fantastic Beasts and Where to Find Them, (An A-Z of Fantastic Beasts), Puffskein - "Puffskein M.O.M. Classification: XX The Puffskein is found worldwide. Spherical in shape and covered in soft, custard-coloured fur, it is a docile creature that has no objection to being cuddled or thrown about. Easy to care for, it emits a low humming noise when contented. From time to time a very long, thin, pink tongue will emerge from the depths of the Puffskein and snake through the house searching for food. The Puffskein is a scavenger that will eat anything from leftovers to spiders, but it has a particular preference for sticking its tongue up the nose of sleeping wizards and eating their bogies. This tendency has made the Puffskein much beloved by wizarding children for many generations and it remains a highly popular wizarding pet." Handwritten note from Harry Potter's copy that he got on 31 July 1991: "➜ I had one of them once What happened to it? Fred used it for Bludger practise"
↑ 3.0 3.1 Wonderbook: Book of Potions, Chapter 5 (Laughing Potion), Puffskein Hair - "The Puffskein is a peaceful, yellow furry creature with a long tongue. Hair: Soft and custard-coloured, the hair of the Puffskein has magical properties and is useful as a magical ingredient. Tongue: Puffskeins enjoy using their long tongues to feed on bogies, to the delight of generations of wizard children. Body: Spherical in shape, Puffskeins can be hurled about without making a fuss, and are very easy to care for. [...] the Laughing Potion requires hair from a Puffskein. Shave your Puffskein and scatter hair over the surface of your potion."
↑ 4.0 4.1 4.2 4.3 4.4 4.5 4.6 4.7 4.8 Harry Potter and the Half-Blood Prince, Chapter 6 (Draco's Detour) - ""Haven't you girls found our special WonderWitch products yet?" asked Fred. "Follow me, ladies. . . ." Near the window was an array of violently pink products around which a cluster of excited girls was giggling enthusiastically. Hermione and Ginny both hung back, looking wary. "There you go," said Fred proudly […] "What are those?" She was pointing at a number of round balls of fluff in shades of pink and purple, all rolling around the bottom of a cage and emitting high-pitched squeaks. "Pygmy Puffs," said George. "Miniature puffskeins, we can't breed them fast enough." […] Ginny, putting a finger through the bars of the cage and watching the Pygmy Puffs crowd around it. "They're really cute!" "They're fairly cuddly, yes," conceded Fred. […] "Mum, can I have a Pygmy Puff?" said Ginny at once. "A what?" said Mrs Weasley warily. "Look, they're so sweet. . . ." Mrs Weasley moved aside to look at the Pygmy Puffs […] Mrs Weasley and Ginny were bending over the Pygmy Puffs."
↑ 5.0 5.1 5.2 Fantastic Beasts and Where to Find Them: The Original Screenplay, Scene 18 - "NEWT: No, there's only one breeder of Appaloosa Puffskeins in the world and he lives in New York, so no . . ."
↑ 6.0 6.1 6.2 6.3 Wizards' Ordinary Magic and Basic Aptitude Test, Grade One, Part One - Magical Law, Question 7 on jkrowling.com (31 March 2006) - "7. Which of the following should receive the LIGHTEST punishment from the Wizengamot? a. Horns created accidentally on a culprit's mother, caused by broken wand b. Jelly-Legs Jinx performed on threatening Muggle c. Breeding fanged Puffskeins d. Underage witch performs Cleaning Charms in privacy of own home"
↑ 7.0 7.1 Harry Potter and the Order of the Phoenix, Chapter 6 (The Noble and Most Ancient House of Black) - ""Mum says get up, your breakfast is in the kitchen and then she needs you in the drawing room, there are loads more doxies than she thought and she's found a nest of dead puffskeins under the sofa.""
↑ 8.0 8.1 J.K. Rowling defines "poffle" on Twitter (08:23 - 30 nov. 2015) - ""@jk_rowling herd, quiver, brood, flock.... What is a group of Puffskeins or Pygmy Puffs called?" "A poffle.""
↑ Fantastic Beasts and Where to Find Them, (Back cover text by Albus Dumbledore) - "A copy of fantastic beasts & where to find them resides in almost every wizarding household in the country. Now Muggles too have the chance to discover where the Quintaped lives, what the Puffskein eats, and why it is best not to leave milk out for a Knarl."
↑ Fantastic Beasts and Where to Find Them, (Foreword by Albus Dumbledore) - "No wizarding household is complete without a copy of Fantastic Beasts, well thumbed by the generations who have riffled its pages in search of the best way to […] cure their pet Puffskein of drinking out of the toilet."
↑ 12.0 12.1 The Making of Harry Potter (see here)
↑ Videos from YouTube of the Puffskeins from the Video Games: https://youtu.be/RToFItICUqM, https://youtu.be/2Wslce9tZhE
↑ 15.0 15.1 15.2 15.3 15.4 15.5 15.6 Harry Potter and the Half-Blood Prince, Chapter 7 (The Slug Club) - "The Ministry cars glided up to the front of the Burrow to find them waiting, trunks packed; Hermione's cat, Crookshanks, safely enclosed in his travelling basket; and Hedwig; Ron's owl, Pigwidgeon; and Ginny's new purple Pygmy Puff, Arnold, in cages."
↑ 16.0 16.1 Harry Potter and the Half-Blood Prince, Chapter 11 (Hermione's Helping Hand) - "…Harry watched Ginny Weasley playing with Arnold the Pygmy Puff for a while…"
↑ Harry Potter and the Half-Blood Prince, Chapter 25 (The Seer Overheard) - ""…all Romilda Vane does is ask me if it's true you've got a Hippogriff tattooed across your chest." […] "And what did you tell her Ron's got?" "A Pygmy Puff, but I didn't say where." Ron scowled as Hermione rolled around laughing."
↑ Fantastic Beasts: Cases from the Wizarding World - Case 9: Cloke and Dagger (see this image)
↑ 22.0 22.1 Fantastic Beasts and Where to Find Them: The Original Screenplay, Scene 19 - "TINA (O.S.): Hey. By the way, we closed that guy down a year ago. We don't allow the breeding of magical creatures in New York."
↑ (see this image)
↑ http://wizardsandwhatnot.com/2016/04/20/dan-fogler-accidentally-reveals-fantastic-beasts-spoilers/Y
↑ Fantastic Beasts and Where to Find Them: The Original Screenplay, Scene 60 - ""BRITISH ENVOY: No, this is his little brother. And what in the name of Merlin are you doing in New York? NEWT: I came to buy an Appaloosa Puffskein, sir.""
↑ Harry Potter and the Half-Blood Prince, Chapter 14 (Felix Felicis) - "As he was ducking toward the drinks table, he walked straight into Ginny, Arnold the Pygmy Puff riding on her shoulder and Crookshanks mewing hopefully at her heels […] Crookshanks trotted after her, his yellow eyes fixed upon Arnold."
↑ Harry Potter and the Philosopher's Stone (video game) - PS1 version