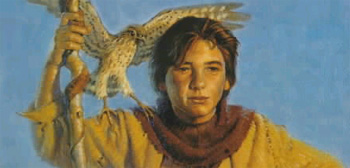 Merlin and Camelot fans can rejoice. With Warner Bros nearing the end of it's international franchise with Harry Potter and the Deathly Hallows: Part II the studio is anxious to fill the void left by the conclusion of the fantasy series. Well, they may find it in yet another wizarding tale as the studio has decided make a big budget adaptation of The Lost Years of Merlin, the first book in a series of fantasy novels by T.A. Barron.
The film apparently is an origin story of the infamous wizard tracing Merlin's journey from being a boy washed on the shores of Wales with no memory and no home, to him becoming a young man learning to use his powers and ultimately defender of the natural world and eventual mentor to King Arthur. The story certainly shares some shades with Harry Potter as both follow a boy learning to become a wizard, and eventually becoming one of the most powerful of his kind. A tent pole franchise is expected to sprout from the adaptation.
So tell us Muggles, have any of you read the Merlin book? Or maybe you've read another. Either way you can vote on your favorite merlin book Here.
References
Source: firstshowing.net