Get ready for a very dramatic and dark finish to the Harry Potter franchise with Harry Potter and the Deathly Hallows: Part 2- that's what the latest posters seem to be telling us at least.
With stars Daniel Radcliffe, Rupert Grint, and Emma Watson each getting their own poster, Harry, Ron, and Hermione all look to be at their wit's end, both physically and emotionally.
The final Battle of Hogwarts looks to be epic, with charred buildings and fire-spewing dragons in the backgrounds. Lord Voldmort best take heed, the wizarding trio definitely look like they mean business!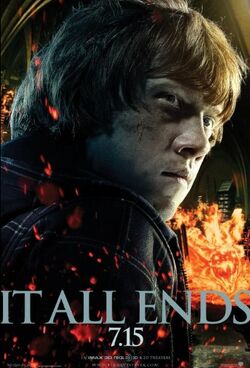 Tell us what you think of the new posters!
Ad blocker interference detected!
Wikia is a free-to-use site that makes money from advertising. We have a modified experience for viewers using ad blockers

Wikia is not accessible if you've made further modifications. Remove the custom ad blocker rule(s) and the page will load as expected.