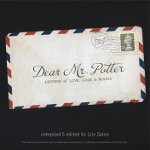 "Dear Mr. Potter: Letters of Love, Loss, and Magic" is a new book featuring hundreds of letters and pictures from fans and readers who have been impacted and inspired by Harry Potter.
Some familiar fandom names also pop up in the book, including the author of "Harry, A History" Melissa Anelli, actress Evanna Lynch who plays Luna Lovegood, New York Times-best selling author John Green, Andrew Slack from the Harry Potter Alliance, Paul DeGeorge of Harry and the Potters, Andrew Sims and Eric Scull of MuggleNet, and Esther Earl's mom, Lori.
Pre-orders for "Dear Mr. Potter" are now open with all proceeds going directly to the Harry Potter Alliance.
"Dear Mr. Potter" will go on sale July 1, 2011, but those who pre-order will receive the discounted price of $14.99.
References
Source: yahoonews.com