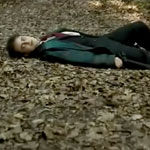 Well, we've being posting stills from HP DH Part 2 on the Harry Potter wiki for some time now and we've been anxiously awaiting a trailer. So here it comes- ABC Family just announced they will be airing the first trailer during a showing of Happy Gilmore this Wednesday night. According to the official press release:
ABC Family continues to be the television destination for all Harry Potter™ fans, this time by airing the U.S. premiere of the new "Harry Potter™ and the Deathly Hallows – Part 2" trailer on Wednesday, April 27th. The trailer will air during a showing of "Happy Gilmore," which airs 7:00 – 9:00 PM ET/PT. The premiere of the new trailer will give fans a glimpse at the epic finale of the "Harry Potter™" film series, including moments from such scenes as Harry, Ron, and Hermione escaping from Gringotts Wizarding Bank, the Room of Requirement fire storm, Mrs. Weasley taking on Bellatrix Lestrange, and Harry and Voldemort's last stand. To get fans ready for the trailer, ABCFamily.com will be releasing one exclusive new photo from "Harry Potter™ and the Deathly Hallows – Part 2" in support of the trailer's premiere on ABC Family.
So stay tuned, we'll be bringing you the photo as soon as it's available... Any guesses as to what it might be of? And who's going to watch Wed night to see the trailer? But don't worry if you miss it because we'll post it for you!
References
Source: abcfamily.com