Comments

3
Rupert Grint on the end of Harry Potter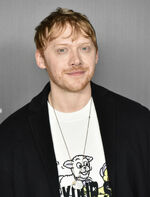 I'm sure all you die hard
Harry Potter
fans have already seen this, but for the
muggles
not watching the news, here goes...
One more thing to look forward to when you pick up your coveted copy of Harry Potter and the Deathly Hallows: Part 1 on DVD are all the extras you haven't seen! One such behind the scenes tid bit is this candid video of Harry Potter star, Rupert Grint, talking about whats next after the end of the franchise. Enjoy!
500px
Ad blocker interference detected!
Wikia is a free-to-use site that makes money from advertising. We have a modified experience for viewers using ad blockers

Wikia is not accessible if you've made further modifications. Remove the custom ad blocker rule(s) and the page will load as expected.