Sirius Black
   Sirius Black is Harry's godfather. He was trusted by James and Lilly Potter. He trusted Petter Pettegrew and was betrayed by Petter. Sirius was then accused of killing 12 people with one curse. He was sentenced to a life sentence in Azkaban, a wizard jail. He then later broke out of Azkaban, and became the first person to ever do so. That later influenced many breakout attempts. He was then found in the Shreaking Shack, inside the Wommping Willow. He attempted to kill Harry, but Remus, his childhood friend, stoped him. Sirius is an Animagus in the form of a black dog, known as the Grim.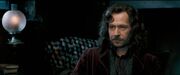 Ad blocker interference detected!
Wikia is a free-to-use site that makes money from advertising. We have a modified experience for viewers using ad blockers

Wikia is not accessible if you've made further modifications. Remove the custom ad blocker rule(s) and the page will load as expected.