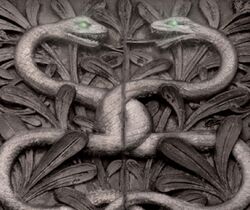 Figured this was the best way to convey this information, since it's too minor to add to the page itself or the news feed. For those of you who don't pay regular attention to the Pottermore Insider or the associated Twitter account, there's been a update on the progress of Chamber of Secrets.
"Thursday 28 May
Chamber of Secrets update: This week, we're in the sound studio recording audio for the Chamber of Secrets Moments. We're also working on Chapter Three, The Burrow, and Chapter Seventeen, The Heir of Slytherin."
It's not much, but hopefully this means CoS will be upon us before we know it, especially since the Insider's showcasing of Pottermore users' artwork is almost at the end of Book 1.